Magnolia Bistro
Since our beginning in 2006, Magnolia Bistro has been committed to the environment. We are proud to have been the first Green Certified Restaurant in Vermont, and our actions reflect these values on a daily basis.
Here are few of the ways we're working to lessen our impact and support our local economy in the process:
Purchasing organic grains, corn and soy to avoid GMO products
Over 90% of our waste is recycled or composted
We have 10 Energy Star rated appliances
We are proud members of the Vermont Fresh Network and work closely with local farms and food purveyors
RATE
SUGGEST PRICE
SUGGEST ORGANIC LEVEL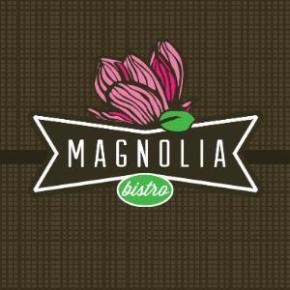 CATEGORY: Restaurants & Cafes, Catering
TAGS: Featuring local, organic, vegetarian, vegan, gluten-free and meat-loving in Burlington, Vermont, gluten free almond pancakes, American, Vegan Friendly, Vegetarian Friendly, Gluten Free
Restaurant Menu - magnolia-111
Starters, Soups & Salads
Banana Bread
Baked in house with Fair Trade Organic bananas. Served warm with cranberry cream cheese
Vermont Cheese and Fruit Plate
Assortment of Vermont cheeses and seasonal fruit
Homemade Seasonal Bread
Made from the highest quality organic ingredients available this time of year
Full Loaves Available To Go For
$15.00
Caesar Salad
Served with a house-made vegan Caesar dressing with crisp romaine and croutons
Mesclun Mix Salad
Served with goat cheese, craisins, walnuts, apple and balsamic berry
Caprese Salad
Local fresh mozzarella, tomato and basil stacked and topped with a balsamic reduction
Spinach Salad
Spinach, goat cheese, almonds, roasted red pepper, and sauteed mushrooms tossed in balsamic dressing
Cobb Salad
Served with romaine lettuce, avocado, carrots, cucumbers, hardboiled egg, tomatoes and blue cheese crumbles
Homemade Soups
Inquire about our current offerings
Salad Additions
Marinated & Grilled Seitan
Tofu Scrams & Omelets
Western Scram
A mix of tofu, herbs, chilé sauce, cheese and tortilla chips, topped with sour cream and salsa
Sesame Scram
Tofu, carrots, asparagus, onions and garlic blended together with sesame oil and seeds to make a healthy tofu treat
Coconut Peanut Scram
Tofu, bell peppers, carrots, broccoli and sugar snap peas tossed with our creamy coconut peanut sauce.
Vermont
Maple sausage, cheddar cheese and apples-all the best of Vermont in one bite
Mexican
Chipotle black beans, cheddar, onions, bell peppers and jalapeños - topped with sour cream and salsa
North Carolina
Southern barbeque pulled pork and Vermont cheddar
California
Organic avocado, grated carrots, veggie sausage and tomatoes
Meat Lovers
Maple sausage, bacon and cheddar cheese
Caprese
Maple Brook Farms mozzarella with fresh basil and tomato
Localvore
A seasonal mix of local ingredients, inquire about our current offering
Griddle Goodies
Oatmeal Pancakes
A hearty pancake made with rolled oats. add organic chocolate chips, organic coconut or seasonal fresh fruit - $2.25
Lemon Ricotta Pancakes
This delicate almost crepe-like pancake is the perfect start to your day. Topped with sweet mascarpone
Belgium Lime Waffle
A hint of lime to zest up your meal - Served with fresh fruit
Cinnamon Swirl Bread French Toast
House made swirled organic cinnamon swirl bread in our own french toast wash
Banana Bread French Toast
Our homemade banana bread with our deliciously different french toast wash
Seasonal French Toast
Our delicious seasonal bread transformed into a French toast - Served with maple whipped cream
Gluten Free Almond Flour Pancakes
Delicious high protein pancakes - Served with a side of fresh fruit
Specialty Plates
Magnolia Eggs Benedict
Organic sourdough with tomato and spinach topped with our own lemon cayenne hollandaise - Served with hash browns
Bo Knows Breakfast
One oatmeal pancake, two eggs, hash browns, toast, and choice of applewood smoked bacon, maple sausage or veggie sausage
Steak & Eggs
Marinated local steak served with two eggs any style, hash browns and toast
The Classic
Two eggs any style, served with toast, hash browns, and choice of applewood smoked bacon, maple sausage or veggie sausage
Breakfast Burrito
A toasted flour tortilla filled with our chipotle black beans, scrambled eggs and cheddar, topped with sour cream and salsa
House Cured Salmon
Citrus salt cure served on a bed of greens and hash browns with dill créme fraîche
Crispy Steel Cut Oatmeal
Topped with seasonal fruit - Served with pure Vermont maple syup
Meat Hash
Combination of potatoes and seasonal local ingredients, served with two eggs any style and toast
Housemade Granola
Inquire about our current recipe
Fruit Parfait
Homemade granola with local greek yogurt and seasonal fresh fruit
Sandwiches
Philly Seitan
Grilled Sheffield Farms seitan and melted cheddar served with garlic mayo, lettuce, tomato and onion
Tarragon Chicken Salad
Free range chicken salad served with lettuce, tomato, onion and cranberry mayo
Southwest Veggie Burger
A blend of beans, corn, carrots, red peppers and cilantro. Served with Cajun mayo
Tuscan Stuffed Portabello Sandwich
Baked then topped with chevre, roasted red pepper, garlic and shallots
Caprese Sandwich
Fresh mozzarella, tomato and basil with balsamic mayo and a balsamic reduction drizzle
Open-Face Steak Sandwich
Local, marinated steak topped with mushrooms, onions and cheddar cheese, with Cajun mayo
The Incredible Mr. Limpett
A vegan specialty: a tuna salad sandwich minus the tuna. Complete with diced pickles, red onions and spices
Sheffield Seitan Reuben
Sheffield Farms seitan, local sauerkraut, melted swiss and homemade thousand island dressing
Curry Tuna Melt
A blend of curry, cashew and tuna served warm with melted cheddar, tomato and onion
Cuban Sandwich
Vermont Family Farms pulled pork with melted swiss cheese, ham, pickles and mustard
Sides
Toast
Organic sourdough, whole wheat, rye, cinnamon swirl or gluten free
This listing hasn't rated yet.
1 Lawson Lane
Burlington, VT
TODAY
8:00am - 3:00pm

---

SUN
8:00am - 3:00pm
MON
7:00am - 3:00pm
TUE
7:00am - 3:00pm
WED
7:00am - 3:00pm
THU
7:00am - 3:00pm
FRI
7:00am - 3:00pm
SAT
8:00am - 3:00pm