Big City Burgers and Greens
RATE
SUGGEST PRICE
SUGGEST ORGANIC LEVEL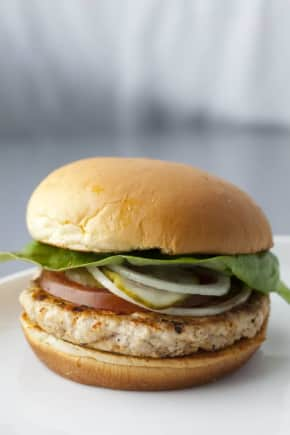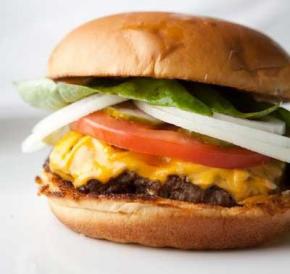 Restaurant Menu - big-city-burgers-and-greens-capital-square
Big City Signature Salads
The NYC
romaine hearts, prosciutto, mozzarella, artichokes, red and green peppers, black olives, giardiniera with creamy roasted red pepper garlic dressing
The Shanghai
baby bib and red leaf lettuce, seared tuna, crispy wonton strips, oranges, edamame and orange ginger vinaigrette
The La
baby spinach, roasted turkey, cranberries, oranges, pineapple, avocados, golden raisins, pine nuts and cilantro lime vinaigrette
The Dsm
iceberg lettuce, skirt steak, bacon, fried onions, roasted com, goat cheese and buttermilk ranch dressing
The Tangiers
mesclun mix, moroccan spiced chicken, artichoke hearts, feta cheese, cherry tomatoes, pita chips, red onion, and mediterranean feta vinaigrette
The Rome
romaine hearts, croutons, shaved parmesan and caesar dressing with choice of grilled chicken or roasted turkey
Big City Signature Salads - Premium Add-ons
Sesame Crusted Seared Tuna
Sauteed Shrimp In Garlic And Herbs
Big City Greens - Pick Your Greens
Big City Greens - Other Choices
Toppings - Fruits, Veggies, Herbs
artichoke hearts, avocados, beets, black olives, broccoli, carrots, celery, chickpeas, cranberries, cucumbers, edamame, fried onions, giardiniera, green peppers, jicama, mushrooms, oranges, peas, pineapple, golden raisins, red onions, red peppers, roasted com, roasted potatoes, scallions, sun dried tomatoes, tomatoes. add seasonal herbs and spices for free!
Toppings - Nuts, Seeds, Grains
black beans, candied walnuts, crispy noodles, crispy wonton strips, croutons, pecans, pine nuts, pita chips, roasted pumpkin seeds, spicy peanuts, sunflower seeds, tortilla strips, wasabi peas
Toppings - Cheeses
asiago, maytag bleu, cheddar, feta, goat, mozzarella, parmesan, queso fresco, swiss
Toppings - Proteins
applewood bacon, eggs, fried la quercia prosciutto, seasoned marinated tofu
Dressing
choose your dressing: balsamic vinaigrette, bleu cheese, buttermilk ranch, caesar, cilantro lime vinaigrette, creamy roasted red pepper garlic, french, honey mustard (fat free), hot bacon, italian (fat free), lemon herb vinaigrette (low fat), mediterranean feta vinaigrette, orange ginger vinaigrette (low fat), parmesan peppercom, poppyseed, raspberry vinaigrette (fat free), red wine vinaigrette, sesame thai vinaigrette, sun dried tomato (fat free), thousand island
Wrap It Up
$7. all wraps served with housemade chips. garlic herb, spinach herb, tomato basil, wheat
Big City Burgers
Big City Burger Baskets
includes choice of big city fries, french fries or onion strings and a drink
Bacon And Cheese Burger
applewood smoked bacon and wisconsin white cheddar
Mushroom And Swiss Burger
sauteed crimini mushrooms and swiss cheese
Black And Bleu Burger
blackened topped with fried onions, applewood smoked bacon and maytag bleu cheese sauce
Big City Hotdog
black angus all beef dog served on a poppyseed bun with pickle, cucumbers, giardiniera and celery salt
Turkey Burger
freshly ground turkey seasoned with big city spice and a side of big city sauce
Tuna Burger
seared sushi grade tuna with black and white sesame seeds, red and green chiles topped with an orange ginger vinaigrette jicama slaw and a side of soy sauce
Garden Burger
grilled marinated portabella mushrooms stuffed with sauteed peppers, onions, goat cheese served with roasted tomatoes, lettuce, hummus, and a side of spicy remoulade and big city sauce
Metro Veggie Burger
a blend of 3 types of rice, grain, roasted com, black beans, sauteed mushrooms, onions, peppers, garlic, hummus and marinated tofu served on your choice of a big city bun or in a whole wheat pita
Signature Wraps
Signature
try any of our signature salads served in your choice of choice of garlic herb, spinach herb, tomato basil or whole wheat wrap
Signature Wraps - Premium Add-ons
Sesame Crusted Seared Tuna
Sauteed Shrimp In Garlic And Herbs
Little City / Kids
Burger Bites
two mini burger with american cheese
Cheese Sandwich
toasted american cheese sandwich
Chicken Bites
two mini panko crusted fried chicken sandwiches
Hot Dog
black angus all beef dog
Shakes / Mix-ins
Shakes / Malts
caramel, chocolate, coffee, hot fudge, peanut butter, raspberry, strawberry, vanilla
Ice Cream Chocolate Chip Cookies Sandwich
Soft Serve
served in a cup with two toppings
Concretes / Mix-ins
pick two toppings, brownie bites, butterfinger, chocolate chips, chocolate chips, cookie crumbles, chocolate mint, chocolate sauce, heath, hot caramel, hot fudge, m&ms, oreo cookies, peanut brittle, peanut butter, peppermint, reeces, snickeres, toffee chocolate mint
Additional Toppings (each)
$0.50
Sides
Big City Fries
thin cut fries tossed with asiago cheese, white truffle oil and italian parsley
French Fries
thin cut fries
Edamame
lowa soybeans in the pod served warm, tossed in sea salt with salt of soy sauce
Side Salad
your choice of lettuce and dressing with carrots, tomatoes and a roll
Potato Chips
housemade lightly salted chips
Onion Strings
thin cut sweet onions beer battered fried golden brown, served with a spicy remoulade
Cheesy Potatoes
grilled potatoes with garlic basil, oregano, italian parsley, fried prosciutto and swiss cheese
Soup
chili or ask about our daily soups
Rolls
choice of garlic butter roll with asiago cheese
Beverages
Bottled Water
still or sparkling
Beverages - Wine
Avalon Cabernet Sauvignon
F Coppola Presents Chardonnay
This listing hasn't rated yet.
400 Locust St #195
Des Moines, IA
TODAY
11:00am - 2:30pm

---

MON
11:00am - 2:30pm
TUE
11:00am - 2:30pm
WED
11:00am - 2:30pm
THU
11:00am - 2:30pm
FRI
11:00am - 2:30pm