RATE
SUGGEST PRICE
SUGGEST ORGANIC LEVEL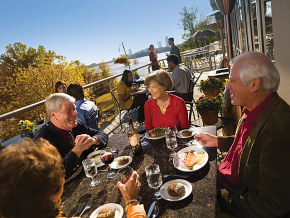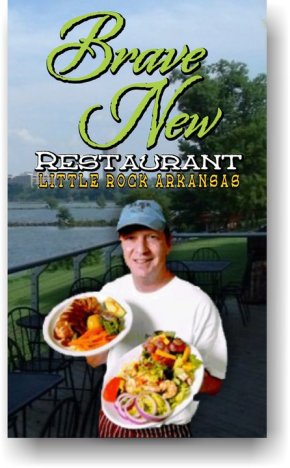 CATEGORY: Restaurants & Cafes
TAGS:
Restaurant Menu - brave-new-restaurant
Appetizers
Goat Cheese Mousse
Fresh goat cheese blended with cream and baked then served on a pool of chive cream sauce
Smoked Fish
Chef's nightly choice of fish served with caperberries, then topped with our own sauce of horseradish and whole grain mustard
Avocado Shrimp
Half an avocado, tossed with fresh Gulf shrimp, red onions, and white balsamic vinaigrette, served on Bibb lettuce
Baked Camembert
Small wheel of Camembert cheese, baked and topped with walnuts, served with grapes and water crackers
Wild Mushroom Tart
Porcini, shiitake, morels, cepes, etc, sauteed with shallots and cream, baked in flaky tart shell
Soups
Creamy Mushroom
Thickened mushroom stock, with mushroom caps
Five Onion
Shallots, red, yellow, and white onions, sautéed, simmered in chicken stock, then garnished w/fresh chives
Dinner Salads
Filet Mignon Artichoke Salad
Artichoke hearts tossed with local vegetables and vinaigrette, served with salad mix, roasted tomatoes and topped with 6 oz. filet mignon, cooked to temperature
Lobster Salad
Canadian lobster tails, mixed with lump crabmeat, asparagus, and lemon tarragon mayonnaise, drizzled with balsamic syrup
Smoked Salmon Salad
This salmon is smoked on the premises, placed atop local mixed greens, tomatoes and dressed with lemon vinaigrette
Spinach & Shrimp Salad
Fresh baby spinach tossed with pears, toasted walnuts, Stilton cheese and vinaigrette, topped with gulf shrimp and garnished with caperberries and chopped egg
Grilled Romaine Salad
Half a head of Romaine lettuce, drizzled with extra virgin olive oil & balsamic vinegar, briefly grilled and served with sliced chicken breast and marinated vegetables.
Perennial Favorites
Falling Sky Farm Free Range Chicken Breast
Boneless chicken breast stuffed with Boursin cheese, sauteed and served with creamy leek sauce
Trout with Spinach & Crab
8oz boneless Trout filet, stuffed with baby spinach and crabmeat, baked and served with a buerre blanc
Veal With Lime
Medallions of veal tenderloin, lightly breaded, then pan sautéed in butter, served with lime butter sauce
Broiled Tilapia Grand Marnier
Fresh Tilapia filet broiled in butter and white wine, finished with a Grand Marnier buerre blanc
Pinenut Encrusted Salmon
Fresh North Atlantic salmon, lightly encrusted with pine nuts, pan sauteed served with a pesto cream sauce
Beef Tenderloin
8 oz. beef tenderloin grilled to temperature, topped with peppercorn demi glaze, served with Stilton tomato half, roasted potatoes & fresh asparagus
Duck With Duck
Pan seared duck breast with crispy skin, coupled with grilled smoked duck sausage, with lingonberry sauce and wild rice
Mixed Grill
Grilled pork tenderloin, medallion of beef, stuffed quail, and wild game sausage served with a herbed demi glace
New York Strip
12oz prime angus beef with a dry rub, grilled to temperature served with compound butter
Stuffed Quail
Two semi-boneless quail stuffed with wild boar sausage, roasted then placed on a bed of red rice blend, served with marsala sauce
Pork Tenderloin
Marinated and roasted off whole, then sliced and served with a whole-grain mustard sauce, accompanied by vegetables and potatoes
This listing hasn't rated yet.
2300 Cottondale Lane #105
Little Rock, AR
TODAY
5:00pm - 10:00pm

---

MON
5:00pm - 10:00pm
TUE
5:00pm - 10:00pm
WED
5:00pm - 10:00pm
THU
5:00pm - 10:00pm
FRI
5:00pm - 10:00pm
SAT
5:00pm - 10:00pm