RATE
SUGGEST PRICE
SUGGEST ORGANIC LEVEL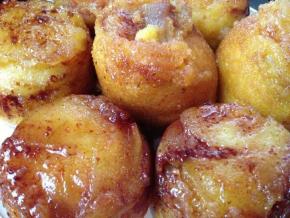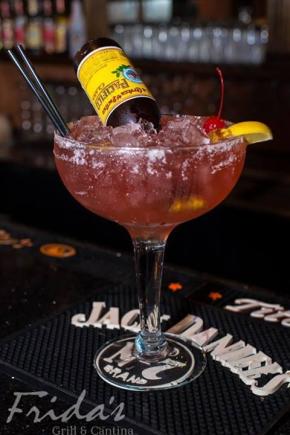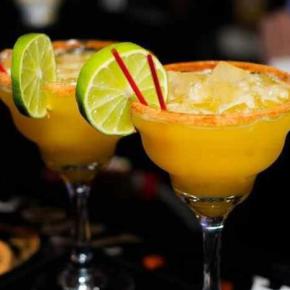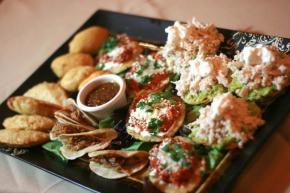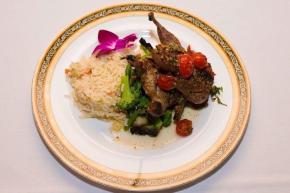 CATEGORY: Restaurants & Cafes
TAGS:
Restaurant Menu - fridas-bar--grill
Appetizers
Flautas Especiales (4)
Beef or chicken wrapped in corn tortillas, fried and topped with crisp lettuce, queso fresco diced tomatoes, and home-made sour cream
Panchos
Tortillas chips topped with American cheese refried beans, crisp lettuce, beef or chicken fajita, tomato, sour cream and jalapenos
Quesadillas Mexicanas
Home-made corn tortillas stuffed with Oaxaca cheese and served with home-made sour cream and salsa
Piña Colada Shrimp
Jumbo Gulf shrimp grilled to perfection and served with our pina colada sauce
Stuffed Avocado
Hass Avocado, stuffed with our blackened chicken salad, and served with cilantro ranch and chipotle ranch
Frida's Specialty Sampler
Traditional mexican appetizers served in one platter including, mini flautas, mini sopes, quesadillas, taquitos, and garnachas priced per person with a minimum of two people
Table Side Guacamole
Fresh avocado pulp, tomato, onion, serrano peppers, and cilantro. All mixed right before your eyes
Queso Fundido
Melted Oaxaca asadero cheese served with home-made flour or corn tortillas
Add Sauteed Mushrooms
$1.00
Shrimp Cocktail
Fresh shrimp, onion, tomatoes, serrano peppers, cilantro, and our special cocktail sauce
Oysters Rockefeller
Baked Gulf oysters covered with rich spinach mix and glazed with our home-made, Hollandaise sauce
Caracoles
Sautéed escargots in white wine, garlic butter and fresh herbs
Texas Shrimp
4 Jumbo Gulf shrimp stuffed with cream cheese, serrano peppers and wrapped with bacon
Fried Calamari
Calamari Rings Battered and fried served with our signature black aioli sauce
Salads
Grilled Caesar Salad
Grilled hearts of romaine lettuce, garlic croutons, parmesan shaves, and homemade caesar dressing
Frida's Caprese Salad
Traditional Italian salad served with our special touch of Mexican ingredients
All Valley Farm Salad
Seasonal organic products, gathered from all over the Rio Grande Valley brought directly to your plate. Served with choice of home-made dressing
Roquefort Cranberry Salad
Organic Mixed greens, with bleu cheese crumbles, sun dried cranberries and walnuts. Finished with our home-made raspberry vinaigrette
Steak Salad
Crisp romaine lettuce, bacon, organic tomato, sliced fajita steak, and our home-made bleu cheese dressing
Platos Tradicionales
Sopes de Came
Crunchy corn masa cakes served with bean puree, shredded beef, lettuce, tomatoes, queso blanco, and home-made sow cream
Tacos A La Plancha
Crunchy flour tortillas, filled with bean puree, shredded beef and Oaxaca cheese
Tacos de Camaron
Soft home-made tortillas filled with sauteed shrimp, bell peppers, onions and Oaxaca cheese
Enmoladas Poblanas
Chicken simmered in a delicious poblano style chile and chocolate sauce, served with rice and beans
Chile Relleno
Roasted poblano pepper lightly battered and stuffed with Oaxaca asadero cheese and sauteed organic vegetables served over a bed of black refried beans topped with a tomato/chipotle sauce and home-made sour cream
Milanesa de Res
Tender sirloin steak lightly breaded and cooked to perfection
Frida's Specialty Burger
10 oz. prime beef patty, toasted bun, ham, avocado, and all the trimmings served with a choice of home-made potato chips or home - made fries
Pechuga de Polio al Chipotle
Grilled chicken beast topped with our own special chipotle sauce served with rice and vegetables of the day
Steak
Frida's Steak Tower
Grilled Skirt Steak, tomatoes, onions, stacked on refried beans and topped with guacamole
Lamb Chops
Tender, juicy, lamb chops cooked to your specifications and served with a Dijon Mustard sauce
Roasted Duck
Half-duck, slow roasted and served with a cream and peppercorn sauce
Grilled Quail
Two, Texas Quail grilled to perfection and topped with a chile ancho and Hoisin Mole
Frida's Parrillada
A taste of our finest cuts of meat
Surf &Turf
Another great feast, that includes our finest Per Person cuts of meat plus succulent seafood. It's an unforgettable experience
Iron Skillet Fajitas
Chicken
Adobo Marinated chicken breast
Skirt Steak
Adobo Marinated Skirt Steak
Farmers Market Vegetables
Adobo Marinated
Shrimp
Adobo-citrus herb marinated shrimp
Agujas Nortenas
Charbroiled beef ribs
Seafood
Brochetta De Camaroi
Jumbo Gulf shrimp and organic vegetables grilled to perfection and basted with sweet and spicy chipotle glaze, served over a bed of cilantro rice
Huachinango Yucateco
Gulf Red Snapper topped with a Yucatan style citrus salsa served with cilantro rice and vegetable of the day
Grilled Tuna Steak
Ahi Tuna Galled to your specifications topped with pineapple and mango salsa served with cilantro and vegetables of the day
Grilled Bassa
8 oz. filet of bassa cooked to perfection topped with crawfish and chipotle sauce served with cilantro rice and vegetables of the day
This listing hasn't rated yet.
209 South 17th Street
McAllen, TX
TODAY
5:00am - 10:00am

---

TUE
5:00am - 10:00am
WED
5:00am - 10:00am
THU
5:00am - 2:00am
FRI
5:00am - 2:00am
SAT
5:00am - 2:00am