Beauty Shop
Lunch and Dinner in a hip neighborhood. Sunday Brunch around the world! Look good. Eat good.
RATE
SUGGEST PRICE
SUGGEST ORGANIC LEVEL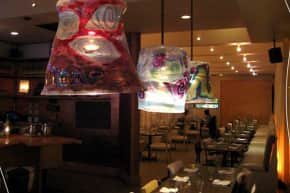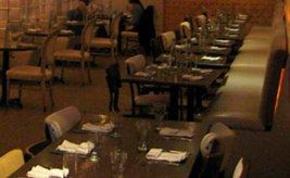 CATEGORY: Restaurants & Cafes, Food Stores & Markets
TAGS:
Restaurant Menu - beauty-shop
Drinks
Lorina French Lemonade
regular, pink, berry, orange
Coke, Dr. Pepper, Ibc Root Beer
Bottled Water
panna water, pellegrino sparkling
Hot Tea
ask your server for selections on hand
Regular Coffee
cafe las flores, espresso blend
Decaf Coffee
j. brooks premium, dark onyx
Starters
Soup
a daily dose of goodness, guaranteed to keep the doctor away
Monkey Bread
dill butter & maldon salt
Artisan Cheese Board
fruit, olives, nuts, rustic bread, little bites seeded cracker
Crispy Panko Gulf Oysters
tabasco powdered sugar, black grape salsa
Sugar & Spice Duck Breast
marcona almond puree, roasted mission figs & grapes, red wine butter, duck cracklin
Caramelized Pears
maytag blue, basil, balsamic syrup
Short Rib Tacos
pickled cucumber, tomatillo, arugula, cilantro, queso fresco
Tuna Carpaccio
serrano scallion, toasted sesame, pickled ginger, wasabi crema, sourdough toast points
Double Dutch Bruschetta
grilled rustic bread, maldon salt, extra virgin olive oil, daily special
Gorguere's
french gruyere biscuits, cinnamon foie gras, benton's bacon, balsamic cherry, quail egg, greens
Haas Guacamole
cilantro, lime, salsa fresca, tortilla crisps
Grilled Maitake Mushrooms
extra virgin olive oil, tamari toasted sesame seeds, lime
Watermelon & Wings
white szechwan pepper, sweet chile lime sauce, toasted cashews, blue cheese
Crispy Calamari & Zucchini
lime, chile garlic marinade thai basil, ginger, tomato lime vinaigrette
Balsamic Maple Roasted Pork Carnitas
peaches, maytag blue cheese, torn basil, mint, balsamic syrup
Garden
Beauty Shop Grilled Romaine
roasted roma's, maytag blue, scallion, spiced rosemary pecans, maple glazed bacon, creamy blue cheese dressing
Warm Vegetable Salad
roasted butternut squash, sweet pepper, red onion, corn, grilled asparagus, toasted sesame, french feta, sambal ginger vinaigrette
Zoe's Kale Salad
marcona, goat cheese, apricots, avocado, french vinaigrette
Creamy Burratta & Roasted Beets
satsuma, maple, ajwain seeds, black pepper, extra virgin olive oil
Heirloom Apple Salad
manchego, marcona almonds, pomegranates, arugula, candied lemon zest
Winter Salad Greens
tarragon buttermilk dressing
Heirloom Carrot Salad
shiitakes, sumac spiced yogurt, hazelnuts, moroccan olive oil, chervil
Grilled Thai Steak Salad
cucumbers, tomato, sweet pepper, red onion, cilantro, basil & mint leaf, mirin lime vinaigrette
Water
Pecan Crusted Golden Sea Bass
ponzu brown butter, kbc's plum tree salsa, grilled sweet corn, aioli, cotija cheese, cayenne salt
Whole Crispy Fish
fresh from a river, lake, or ocean, we crisp that whole bad boy up, crispy style, real crisp like
Pan Roasted Barramundi
edamame sweet corn succotash, marcona almonds, citrus garlic coconut milk broth, brown butter
Caribbean Voodoo Stew
island bouillabaisse, mussels, shrimp & crab legs, rice
Land
Maple Glazed Benton's Bacon Wrapped Steak Fritte
filet mignon, peppercorn & mustard seed crust, truffle oil parmesan frittes
Thai Pork & Goat Cheese Stuffed Chicken Confit
johnny cakes, blistered grapes, cabbage, benton's bacon, fuji apples, fennel, apple cider vinegar, chicken cracklin
Sumac Coriander Pepper Crusted Lamb Chops
roasted sweet potato, beetroot arugula currant salad, orange
Crispy Peking Duck
roasted figs, muddled blackberries, marcona almond honey puree, butternut squash & caramelized onion galette
Sides
Grilled Corn On The Cob
lime aioli, cayenne salt, cotija cheese
Butternut Squash And Caramelized Onion Galette
Frittes
cayenne sugar scallion or black pepper truffle parmesan
This listing hasn't rated yet.
966 Cooper St
Memphis, TN
TODAY
11:00am - 2:00pm
5:00pm - 10:00pm


---

MON
11:00am - 2:00pm
5:00pm - 10:00pm

TUE
11:00am - 2:00pm
5:00pm - 10:00pm

WED
11:00am - 2:00pm
5:00pm - 10:00pm

THU
11:00am - 2:00pm
5:00pm - 10:00pm

FRI
11:00am - 2:00pm
5:00pm - 11:00pm

SAT
11:00am - 2:00pm
5:00pm - 11:00pm

SUN
10:00am - 3:00pm