Bay of Pines Organic Restaurant
RATE
SUGGEST PRICE
SUGGEST ORGANIC LEVEL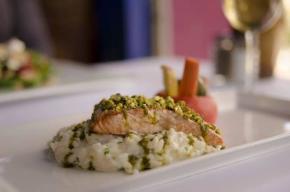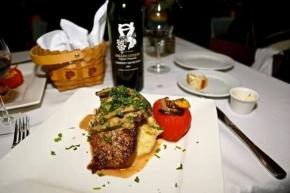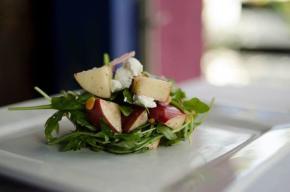 Restaurant Menu - bay-of-pines-restaurant
Appetizers
Galley Cook's Fried Calamari
Baby squid, lightly floured and fried, served with a spicy marinara sauce
The Irish Mex Connection
Fresh diced avocados with "Pico de Gallo" and black beans sprinkled on crispy organic potato chips, topped with melted mozzarella cheese
Watsonville Portobello Mascarpone
Sliced organic Portobello mushrooms layered with red, yellow peppers, and prosciutto nestled over melted Mascarpone cheese and creamy balsamic vinaigrette
Ocean Fishnet Fruits of the Sea
Shrimp and salmon lightly sautéed in garlic and shallots, opped with sherry cream sauce, served on a puff pastry shell
Captain Jack's Galley Smoked Wings
Mary's free-range crispy smoked chicken tossed with lime and chili, served with cilantro aioli
Chicken wantons
Served on Asian slaw salad drizzled with orange vinaigrette
Lamb Lollipops
Grilled and seasoned New Zealand lamb lollipops with Cabernet reduction served with rose scented risotto
Soup and Salads
Salinas Valley House Salad
Organic California greens and vegetables served with Chive champagne vinaigrette
Chef's Caesar Salad
Locally grown organic romaine lettuce and herb buttered croutons served with our Chef's special Caesar dressing, topped with shaved Bellagio Farms parmesan
With Grilled, Organic Chicken
$15.00
Wood Smoked Vegetable Salad
Monterey handpicked organic vegetables smoked, sautéed and nestled over baby greens mélange and toasted almonds
Pine Nut Arugula Timbale
Organic baby arugula, tossed with California seasonal apples, roasted pine nuts tossed in a raspberry vinaigrette with goat cheese crumbles
Captain's Beets Salad
Gold and red beets, roasted over chopped kale, orange segments, topped with Feta cheese drizzled with apricot vinaigrette
Lover's Deck Avocado Salad
Avocado and Pear over a bed of California greens with mango Vinaigrette
The Cockpit Artichoke Salad
Julienne endive and artichoke hearts with tangerine segments on a bed of California greens Champagne citrus vinaigrette
The Admiral Kale Salad
House smoked bacon, kale with roasted pecans, orange segments and orange vinaigrette
Sandwiches
Dana's Pita Grande
Mixed organic California vegetable greens, caramelized onion, humus, drizzled with light Asian pear vinaigrette in a warm pita
Wood Smoked Vegetable Wrap
Organic smoked vegetables and mixed greens with cream cheese pesto in a whole wheat tortilla, drizzled with orange sauce
Open Face Vegetables Focaccia
Organic mushrooms, spinach and asparagus on Italian focaccia bread With Balsamic vinaigrette, and melted mozzarella cheese
Pirate's Pulled Pork
Homemade apple wood smoked Pulled pork in our own BBQ sauce
Artisan Burgers
Vegetable Burger
Sautéed organic mushrooms and seasonal smoked vegetables Marinated in balsamic vinaigrette with caramelized onions and avocado slices
The Bay of Pines
Organic sautéed mushrooms, caramelized onions, melted gorgonzola and sliced serrano peppers
The Crow's Nest
Hummus spread, sautéed wild mushrooms, apple wood smoked bacon strips and Gruyere cheese
La Victoria
Sliced organic portabella mushroom, guacamole, cilantro and serrano spread, topped with mozzarella cheese
Entrees
Filet Mignon
Neiman Ranch grass fed, natural Prime, seasoned and grilled with organic herbs. Served on a bed of Yukon potato puree and sautéed organic vegetables Topped with our own galley smoked butter rosette
Cabin Boy Cut 6 Oz.
$30.00
New York Steak
Neiman Ranch grass fed, natural Prime New York steak, seasoned and grilled with organic herbs, topped with melted gorgonzola cheese and shitake mushrooms in a light creamy sauce. Served with organic vegetables and potato puree
Mediterranean Chicken
Organic chicken breast immersed in lime and rosemary marinade, pan seared, topped with diced tomatoes, Kalamata olives, and artichoke in a light brandy sauce. Served with Yukon potato puree
Chicken Epinards
Organic chicken breast sautéed mushrooms, spinach and sundried tomatoes in a pink marinara sauce, served with potato puree
Pistachio Crusted Salmon
Pan seared salmon, topped with sautéed shrimp in white wine, lemon dill sauce. Served with organic grilled vegetables nestled on orange infused risotto
Pasta
A la Pomodoro
Organic seasonal vegetables and roasted pine nuts tomatoes, garlic, Kalamata olives basil, in our homemade marinara sauce
A la Bolognese
Organic 8OZ. minced beef, homemade Marinara sauce with fresh organic oregano, diced onions, Shallots, garlic and organic vegetables
Seafood Puttanesca
Clams, shrimp, and salmon sautéed in garlic, butter with capers, red or white wine sauce, parsley, Kalamata olives, and homemade marinara sauce
Chicken Pesto
Organic chicken breast, artichokes, diced tomatoes, mushrooms, garlic and Kalamata Olives in a light homemade "Bellagio Farm" parmesan pesto cream sauce
Gamberonie A La Vodka
Sautéed Shrimp with white wine, garlic, and sun dried tomatoes in a cucumber organic vodka cream sauce
Desserts
Vanilla bean crème brûlée
Creamy vanilla bean custard with a hint of coffee and caramelized organic sugar
Chocolate chip bread pudding
Delectable bread pudding with chocolate chips served with a crème Anglaise
Apple tart
Organic spiced red delicious apples in a fluffy puff pastry
Chocolate mousse
Soft and velvety chocolate mousse covered with rich chocolate ganache
Tiramisu
Sponge cake with coffee and liquor-soaked alternating with Mascarpone cheese and chocolate
This listing hasn't rated yet.
150 Del Monte Ave
Monterey, CA
TODAY
11:00am - 12:30am

---

SUN
11:00am - 10:00pm
MON
11:00am - 10:00pm
TUE
11:00am - 10:00pm
WED
11:00am - 10:00pm
THU
11:00am - 10:00pm
FRI
11:00am - 12:30am
SAT
11:00am - 12:30am