RATE
SUGGEST PRICE
SUGGEST ORGANIC LEVEL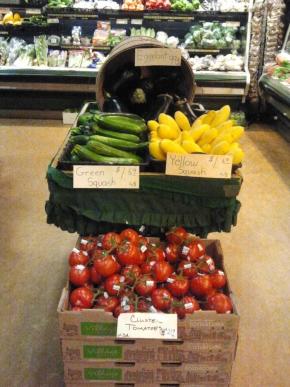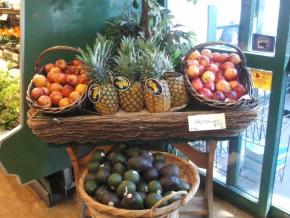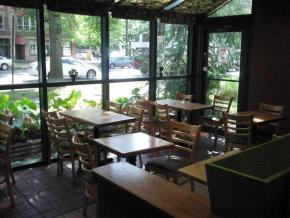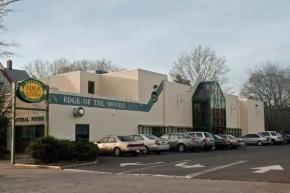 CATEGORY: Restaurants & Cafes, Food Stores & Markets
TAGS:
Restaurant Menu - edge-of-the-woods-market
Hot Bar - Main Dishes
Roasted Caraway Potatoes & Carrots
Sandwich Bar - Cold Sandwiches
The Hummus
Hummus with carrots, beets, cucumbers, tomatoes and sprouts
Falafel with Tahini Sauce
Falafel balls with tahini sauce, lettuce, tomatoes, cucumbers, red onions, and sprouts
California Spa
Avocado, lettuce, tomato, cheese and sprouts
Greek Isles
Feta cheese, peppers, cucumbers, red onions, sprouts, and tomatoes
FBL&T
Fakin' Bacon, lettuce tomato & Mayo
Garden Veggie
Sprouts, spinich, carrots, beets, cucumbers, tomatoes, red onions, peppers, & cheese
Chick Patty
Mock chicken patty (vegan), lettuce, tomato, and mayo
Tofu Salad
Tofu, lettuce, tomatoes, celery, onions and mayo.
Sandwich Bar - Hot Sandwiches
Roasted Vegetable
Tasty Burrito stuffed with zucchini, onions, peppers, yellow squash, cheese
Muffaletta
Eggplant, pepers, sundried tomatoes, onion, garlic, fresh basil, balsamatic vinegar, capers and cheese.
Mozzarella with Roasted Peppers on Rustic Bread
Mozzarella cheese, roasted peppers, fresh basil, tomatoes, red onions on your choice of bread.
Grilled Mushroom
Button mushrooms, portabella, mushrooms and shitake mushrooms, lettuce, cheese, sundried tomatoes and fresh basil.
Three Cheeser
Any three cheeses of your choice with lettuce, tomato and avocado.
Edge Burger
Tofu, nuts,tahini, cornmeal,sprouts, lettuce, tomato and cheese.
Tempeh Rueben
Tempeh, sauerkraut, Russian dressing, cheese on rye bread
Monte Cristo
Vegan ham, cheese on buttered & grilled sourdough bread
Sandwich Options
Extras $1.00 each
Grilled onions Peppers Zucchini Avocado
Cheese Options
Mozzarella, Cheddar, Swiss, Halvarti, Muenster, Vegan options include: Cheddar, Mozzarella, Swiss, Provolone
Bread Options
Whole Wheat, Whole Wheat Rye, Pumpernickel, Spinach Wrap, Tomato Wrap, Whole Wheat Wrap
Dressings
Mayonnaise (regular or vegan), mustard (yellow or dijon), ketchup, tahini, vegan Russian dressing
This listing hasn't rated yet.
379 Whalley Avenue
New Haven, CT
TODAY
8:30am - 7:30pm

---

MON
8:30am - 7:30pm
TUE
8:30am - 7:30pm
WED
8:30am - 7:30pm
THU
8:30am - 7:30pm
FRI
8:30am - 7:30pm
SAT
8:30am - 6:30pm
SUN
9:00am - 6:00pm