RATE
SUGGEST PRICE
SUGGEST ORGANIC LEVEL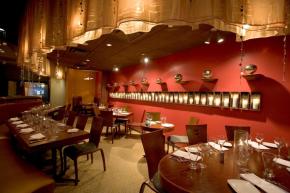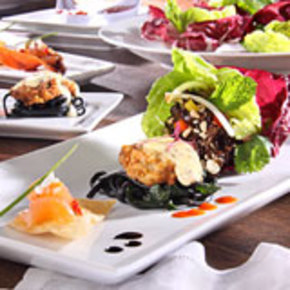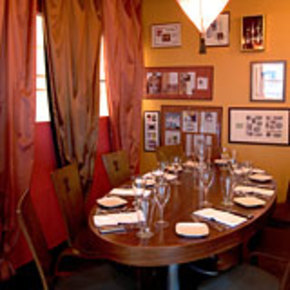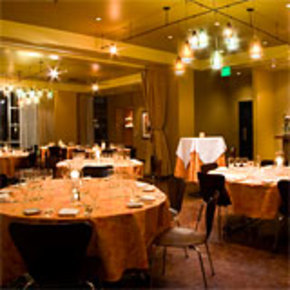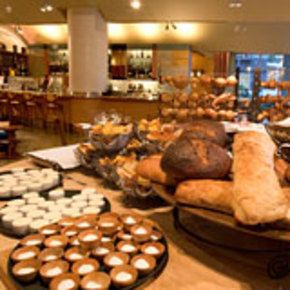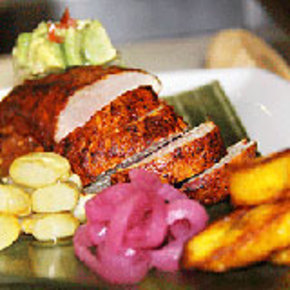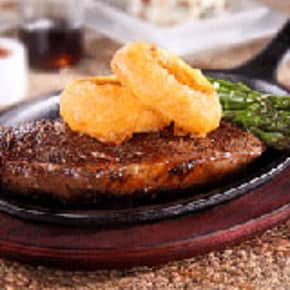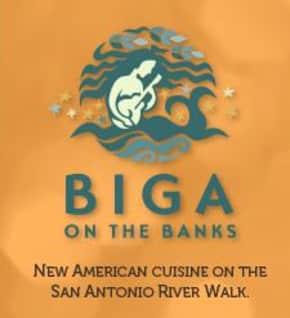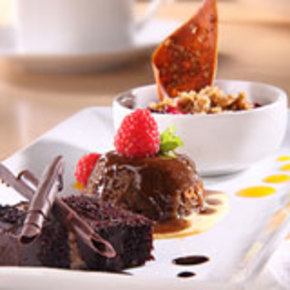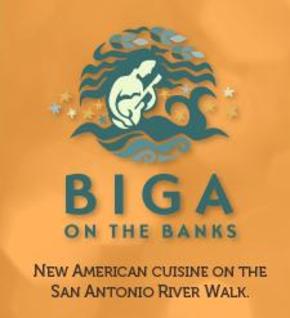 Restaurant Menu - biga-on-the-banks
First Course
Yellow Lentil Curry Soup
With lemon yogurt
Vegetable Strips
Crunchies, shiitakes, asian inspired sesame ginger dressing
Second Course
Seared Mahi Mahi
Chive mashers, asparagus salad, honey thyme vinaigrette
Seared Beef Tips
Corn pudding, crispy plantain, poblano chimichurri, guajillo demi glaze
Third Course
Capirotada
With vanilla bean ice cream, rum sauce
Bailey's Crème Brûlée
Chocolate caramel sandwich cookie, oranges
Starters
House Apple-Smoked Salmon Nachos (5)
Chipotle cream cheese and escabeche vegetables
Chicken-Fried Oysters (5)
Squid ink linguini, swiss chard, pancetta, whole grain mustard hollandaise
Garlic Spicy Lamb Merguez Sausage & Texas Shrimp
Hummus, charmula & preserved lemons
Sizzling Expensive Mushrooms
Sautéed with red onion, garlic & savory herbs, grilled bread
Habanero Jerk Scallops
Cheesy grits, pineapple rum chutney
Pork Pot Stickers (4)
Scallions, hot chili orange oil, red currant sauce
Seared Hudson Valley Foie Gras
French toast, apricot cranberry chutney, cider duck jus
Bibb and Radicchio Game Packets (3)
Asian chili sauces
Selection of Artisan Cheese
Leonora, rogue river smokey blue, mahon curado with honeycomb, marcona almonds, walnut date cake and quince paste
Farm Raised American Transmontanous Caviar
1 oz. Service
Soup & Salads
Yellow Lentil Curry Soup
With lemon yogurt
Baby Iceberg Lettuce
Apple-smoked bacon, pickled onions, cucumbers, tomatoes, blue cheese dressing
Orange Salad
Hydroponic greens, lardons, rebecca creek goat cheese, avocado, walnut vinaigrette
Warm Spinach
Brie, apple smoked bacon, trumpet royal mushrooms, spiced pecans, gaufrettes, tart apples, sherry garlic vinaigrette
Romaine Hearts
Red pepper caesar dressing, little croutons, parmesan tuile
Add 4 Chicken Fried Oysters
$17.00
Vegetable Strips
Crunchies, shiitake, thai-inspired sesame and ginger dressing
Add 3 Tempura Shrimp
$17.00
Main Course
Grilled Ahi Tuna
Served rare, brothy black beans, pico de gallo, cilantro, chayote squash tomatillo slaw
Pan Seared Mahi Mahi
Chive mashers, asparagus crab salad, honey thyme vinaigrette
Seared Wild California King Salmon
Basmati rice pilaf with yellow wax beans, watercress, citrus beurre blanc
Hunan Barbeque Mahi Mahi
Young greens, chilled spring vegetables, crispy noodle net, lemongrass vinaigrette
Grilled 8 Oz Beef Tenderloin
Corn pudding, crispy plantain, poblano chimichurri, guajillo demi glaze
Griddled 13oz. Ribeye
Garlic mashers, green beans, shiner bock onion rings, burgundy demi glaze
Dry "35 Day" Aged 10 Oznew York Strip
Mashers, asparagus, burgundy demi glaze. "Limited availability"
11-Spiced Texas Axis Venison and Grilledbandera Quail
Goat cheese tart, chestnuts, brussels sprouts, apricot, sultana cinnamon chutney, juniper sauce
Seared Duck Breast and Confit Leg
White bean puree, roasted acorn squash, swiss chard, pinot noir sauce
Smoked Roasted 1/2 Organic Tecumseh Chicken
Potato gratin, grilled asparagus, natural pan jus
Hoisin Glazed Pork Tenderloin
Yakimeshi rice, tempura broccolini, 5 flavor oil, shiso
Mustard Crusted Australian Lamb Rack
Texas gristmill cheesy grits, rebecca creek goat feta, shaved fennel, grilled asparagus, mushroom demi glaze
Close-To-Bouillabaisse of Shrimp
Scallop, mussels, clams, lobster, mahi, tuna and halibut served with martini rouille
Quinoa, Corn & Poblano Stuffed Tomato
Grilled yellow squash, cilantro crema, tomato salsa & queso fresco
Tonight's Souffle
Grand Marnier Soufflé
Orange anglaise
Sides
Asparagus & Trumpet Mushroom Saute
Charred and Roasted Brussels Sprouts
Baked Cauliflower & Cheese
Snap Peas, Shiitake and Garlic
Israeli Couscous, Creamy Bacon Sauce, Truffle Oil
Desserts
Grand Marnier Soufflé
Orange anglaise. Please allow 20 minutes
Amaretto Crème Brûlée
Almond financier, blackberry compote
Vanilla Cheese Cake
Candied hazelnuts, texas blueberries, lemon curd
Chocolate Hazelnut Banana Bar
Dolce de leche, caramelized bananas, gianduja ice cream
Texas Peach Soup
Crème fraîche mousse, peach raspberry salad
Black Forest Cake
Vanilla ice cream, mocha crumbs
Sticky Toffee Pudding
English custard
Sorbets
Coconut, mango passionfruit, raspberry ginger
Ice Creams
Frutti de bosco, lemon, coconut
Selection of Artisan Cheeses
Garrotxa
Goat's milk, semi soft, sweet
Point Reyes Original Blue
Raw cow's milk, soft, creamy
Oma Von Trapp
Raw cow's milk, gooey, pungent
Honeycomb
Marcona almond, quince paste, walnut date cake, toasty bread
Dessert Wines
Marquis De Chasse, Sauternes, 500ml '11
D. Bernadins, Muscat, Beaumes De Venise, '11
Inniskillin, Ice Wine Riesling, Niagara Peninsula, '08
Ports & Sherry
Blandy's, Malmsey, 5 Year Madeira
Graham's, 20 Year Tawny' Port
Fonseca, Bin 27, Reserve, Porto
Emilio Lustau, East India Sherry Solera, Spain
Emilio Lustau, Extra Rare Solera, Spain
Quinta Do Crasto, Lbv Porto 2007
Warre's, 20 Year Tawney Port
This listing hasn't rated yet.
203 S St Mary's St
San Antonio, TX
TODAY
5:30pm - 11:00pm

---

SUN
5:30pm - 10:00pm
MON
5:30pm - 10:00pm
TUE
5:30pm - 10:00pm
WED
5:30pm - 10:00pm
THU
5:30pm - 10:00pm
FRI
5:30pm - 11:00pm
SAT
5:30pm - 11:00pm