Kitchen 4140
Kitchen 4140 is a San Diego restaurant that boasts its very own organic garden
and uses as many local, fresh ingredients as possible. With the recent addition of beer and wine to the menu, Chef Kurt is excited to host wine dinners with different winemakers. Creating several coursed meals with wine pairings is just one of the new things going on at The Kitchen.
RATE
SUGGEST PRICE
SUGGEST ORGANIC LEVEL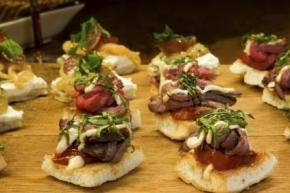 CATEGORY: Restaurants & Cafes
TAGS:
Restaurant Menu - kitchen-4140
Starters And Light Bites
Crispy Brussel Sprouts
lamb bacon, honey sherry vinaigrette
Bone Marrow
Horseradish garlic crust, roasted garlic, crostinis
Spanish Chicken
Spanish fried chicken, olives, capers, anchovies, spicy remoulade
Tuna on Fire
Pepper seared ahi, wasabi creme fresh, chili drizzle, ponzu
Truffle Polpette
Arrabbiata sauce, grilled bread, taleggio
Cheese Plate
5 artisan cheeses, candied walnuts, berries, honey, house made fruit spread, pickled vegetables, crostinis
From The Farm
Concept Salad
mixed greens, dried cherries, feta cheese candied walnuts, aged balsamic vinaigrette
Fuji Apple Salad
Dennel, champagne cranberries, fig aged cheddar, spiced almonds, smoked chicken, champagne vinaigrette
Ceasar Salad
Romaine hearts, manchego cheese, tomatoes crostini, roasted garlic dressing
Burrata Salad
Fresh burrata, baby heirloom tomato, toasted almonds, arugula, roasted beets. peach balsamic, blood orange olive oil
Composed Plates
Seared Ahi
Cilantro rice, lime infused honey, micro vegetable
Branzino
Bread encrusted Loup de mer, coconut broth cilantro rice, tiny vegetables
Grilled Lamb Chops
rosemary, whole grain mustard, saffron aioli, black garlic, shallot roasted potatoes, carrot puree
Pork Belly
Slow smoked pork belly, egg yolk confit, crispy polenta, jalapeño kale slaw, crispy Brussels
Aspen Ridge New York
Smoked barrel aged soy, fingerling potatoes romesco, carrot puree
Bone - In Rib Eye
28-day aged rib eye seared in duck fat mashed sweet potatoes | green chili oil
Buffalo Burger
Grass-fed buffalo, pork belly, aged cheddar, heirloom tomato, bermuda onion, butter lettuce, sriracha aioli, ciabatta, kimchi, pickled red onions, fried egg, house-cut herb frites
Bulgogi Braised Short Ribs
House-smashed potatoes, seasonal vegetables house kimchi
Thai Chili Salmon
House made tangy Thai sauce, wasabi rice, seasonal vegetable, mango relish
Air Chilled Roasted Chicken
Heirloom potatoes, crispy kale mushroom demi, Myers lemon & thyme
Wild Mushroom Risotto
Truffle poached egg, young arugula
Chef's Whim Dinner
Leave it up to chef kurt three course dinner with wine pairing
This listing hasn't rated yet.
4140 Morena Boulevard
San Diego, CA
TODAY
11:00am - 3:00pm

---

MON
11:00am - 3:00pm
TUE
11:00am - 3:00pm
WED
5:00pm - 9:00pm
THU
5:00pm - 9:00pm
FRI
5:00pm - 9:00pm
SAT
5:00pm - 9:00pm
SUN
9:00am - 2:00pm