Caffe La Pastaia
La PastaiaÔÇÖs menu reflects a commitment to the Italian lifestyle, emphasizing seasonal, contemporary cuisine drawn from the rich, varied regions of Italy and its Mediterranean neighbors while showcasing the best products that the Bay Area has to offer. A winner of the Wine Spectator Award of Excellence, our wine list highlights selections that are produced in limited quantities from unique, dynamic producers. The wines range from rustic, old world elegance, to modern, vibrant and experimental. We encourage your questions, lively participation and adventurous spirit. Revamped classic cocktails and small batch craft beers round out a beverage program that has continued to be a favorite of locals and travelers alike.
RATE
SUGGEST PRICE
SUGGEST ORGANIC LEVEL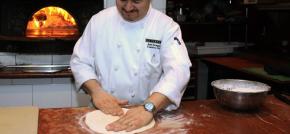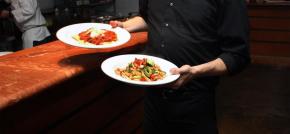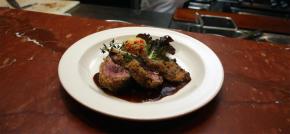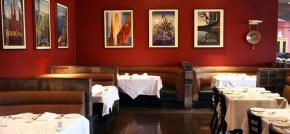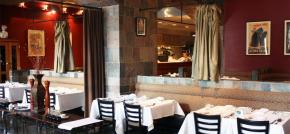 CATEGORY: Catering, Restaurants & Cafes
TAGS: grappa, wine list, seasonal menu, Italian restaurant, chocolate-allspice cake, pizza, private dining, pasta, tomato basil soup, Italian
Restaurant Menu - la-pastaia
Begin
Artisan Cheese Plate
Point Reyes Blue, Wagon Wheel, St Pat, Habberdston Blue Capri; Marcona Almonds, quince paste
Salume
dry-cured speck, lomo, sopressata riserva, prosciutto, uncured spicy salame; marinated vegetables
Share
Ceci
spicy fried garbanzo beans
Meatballs
wood-fired, house-made
Grilled Calamari
white bean-fennel salad
Olives
wood oven-roasted; mixed
Gamberi Asiatico
wrapped prawns, shitake mushrooms, crab, Calabrian chile glaze
Fava Beans
sauteed; sweet onion, pecorino
Fritto Misto
green beans, artichokes, lemon, sage
Brussels Sprouts
crispy pancetta
Beets
golden & red; wood oven-roasted
Ricotta Ravioli
brown butter, sage
Clams
steamed w/ tomatoes, chorizo, white wine; bruschetta
Salads
Asparagi
chilled asparagus, fava beans, ricotta; grilled bread
House
Bibb and Red Oak organic lettuces, vine ripe tomatoes, feta cheese, pistachios
Caesar
romaine, anchovy-egg dressing, house-made croutons, parmesan
Caprese
vine ripe tomatoes, basil, fresh mozzarella
Sides
Chard
garlic, chiles, and lemon
Roasted Ginger
corriander carrots green beans
Fingerling Potatoes
wood-fired
Pizza
Margherita
mozzarella, tomato passata, basil
Prosciutto
broccoli rabe, prosciutto mozzarella, tomato passata, chile oil
Potato-thyme
fingerling potatoes, gorgonzola, thyme, olive oil
Sausage
Calabrian chiles, sweet onion, mushrooms, tomato passata, fontina
Fontina-Arugula
a fontina, tomato passata; arugula-parmesan salad
Pasta
Vongole
spaghetti w/ baby clams, Calabrian chiles, white wine
Fettuccine
Benedetti Farms smoked chicken, chard, pancetta, sweet onion
Cavatelli
w/ fava beans, peas, ricotta, sweet onion, lemon, pecorino
Cacio E Pepe
spaghetti w/ black pepper, pecorino
Lamb Ragu
cavatelli; slow braised lamb, olives, mint
Amatriciana
spaghetti w/ pancetta, tomato, pepperoncini, sweet onion
Ravioli
ricotta filled; veal, pork, beef Bolognese
Risotto
Arborio rice, asparagus, goat cheese, sweet onion, pancetta
Pomodoro
spaghetti w/ Di Napoli tomatoes, basil, garlic, olive oil
Plates
Skillet Roasted Chicken Paillard
'airline' breast, pan jus, polenta; asparagus
Lamb Scottadito
balsamic reduction, ginger-corriander carrots; Calabrian chiles
Clams & Fries
steamed w/ tomatoes, chorizo, white wine; fries
Wood Fired Vegetables
season's selection; soft polenta
Pan Roasted-balsamic Glazed Salmon
shaved fennel-herb salad
Porcini-crusted Strip Steak
8 oz, fingerling pototoes; green beans
Pork Chop
12 oz bone-in pork chop; Ale-braised white beans, greens, pancetta
Burger
grilled onions, sharp cheddar, smoked bacon, Acme roll; fries
This listing hasn't rated yet.
233 W Santa Clara St San Jose
San Jose, CA