RATE
SUGGEST PRICE
SUGGEST ORGANIC LEVEL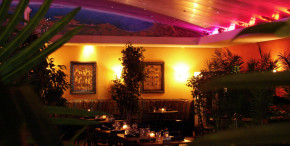 Restaurant Menu - carnaval-brazilian-grill
Salads
Mesa De Frios / Salad Bar
create your own special plate of your favorites from our fresh selection of cold and hot items from our brazilian inspired cold and hot ham item salad bar. (unlimited trips)
Caesar Salad
romaine greens, freshly grated parmigiana-regiano cheese, tossed in our caesar dressing served in a parmesan cheese bowl. anchovies are available upon request.
Lettuce Wedge
a generous wedge of baby iceberg lettuce dressed with ranch or blue cheese crumble, diced tomato and scallions.
Small Plates
Chicken Drummies
six chicken drummies prepared by the gauchos then finished in our pizza oven, served with a celery-ranch dip. choose from traditional or hot.
Brazilian Nachos
carnaval chips smothered with a rich house cheese blend, feijoada (black beans and meat), garnished with chives. (large enough to share) with choice of pico or sour cream.
Chips And Salsa
our house made carnaval chips, lightly salted, with a side of our freshly made salsa. add a side of fresh guacamole for
Empanada
our signature meats are prepared, ground, and wrapped in a puff pastry, werved with a side of house slaw.
Bacon Wrapped Loin Tips
beef loin wrapped in bacon prepared by the gauchos, served with our house celery-ranch dipping sauce. buttermilk blue cheese can be added for an additional cost.
Heart Of Palm & Artichoke Dip
a soft, creamy blend of spinach, heart of palm, and artichoke baked in our pizza oven, served with fresh baguette bread & chips.
Coconut Shrimp Apps
six crispy, quick-fried shrimp covered with our flaky, cinnamon-coconut, served with choice of a sweet and sour sauce or house cocktail sauce.
Artisan Meat & Cheese Platter
an assortment of gourmet meat and cheeses paired with fresh seasonal fruit.
Carnaval Fish Tacos
two authentic fish soft tacos topped with cabbage, fresh salsa and citrus crema. choose from mahi-mahi
Crab & Mango Fritters
lump crab meat and fresh mango rolled in coconut, quick fried and served with a side of tropical slaw (shredded cabbage, red onions) and cilantro-lime aioli.
Ahi Tuna
ahi tuna marinated in soy sauce, sesame oil and wasabi, then rolled in sesame seeds and seared on the grill; sliced thin and served with field greens.
Steaks
New York Strip (16oz) Ribeye (16oz) Tenderloin (8oz)
grilled to your liking and served with a trio of sauces (madeira wine sauce, chimichuri, horseradish and sour cream), as well as a side of seasonal vegetables, choice of rice, baked potato, garlic mashed potatoes, or sweet potato. additional sides available: grilled or coconut shrimp,
Chop
the humble pork chop served with a mushroom madeira wine port sauce and choice of potato.
Signature Specialty
The Gaucho Meal
our signature gaucho meal includes unlimited trips to the salad bar (hot & cold), and pao de queijo (cbg version of parmesan cheese bread stuffed with ground picanha) brought to you table-side. the selection of churrasco roasted meats are served to you table-side straight from the churrasqueira skewer by our gauchos
Rodizio 2: Complete / Full Rodizio
beef: picanha (brazilian signature meat) with and without garlic, flank steak, alcatra (top sirloin), filet wrapped with bacon pork: pork loin and pork ribs chicken: chicken drummies, parmesan chicken breast and cordeiro (lamb), linguica (house sausage) pineapple with cinnamon.
Rodizio 3: Minirodizio
top sirloin, chicken drummies, pork loin, parmesan chicken breast, house sausage, flank steak
Rodizio 1 Full Rodizio With Shrimp
same as rodizio #2, except there is the added selection of unlimited churrasco roasted shrimp.
Burgers And Sandwiches
Pineapple Chicken Sandwich
marinated, grilled chicken breast crowned with our luscious pineapple, swiss cheese and roasted red pepper pesto aioli, corralled onto our specialty bun served with parmesan fries.
Picanha Dip
our slow roasted, signature meat, picanha, is shaved and loaded onto a hoagie with havarti cheese, sauteed sweet onions, peppers, and mushrooms medley, served with a side of au jus and parmesan fries.
Picanha Burger
a freshly prepared, hand-pattied burger crafted from our signature picanha meat, served on a fresh roll with lettuce, tomato and onion, served with parmesan fries on the side.
Stuffed Burger
our signature picanha meat stuffed with our bbq sauce, chedda cheese, garlic & onion.
Seafood
Tropical Walleye
a pan seared walleye filet with shrimp under a canopy of pineapple salsa nestled over house rice.
Mussels
a brazilian dozen (13) of new zealand green lips served in a spicy red sauce with baguette bread.
Stuffed Calamari
three (3) calamari stuffed with borsin cheese then rolled in a panko-parmesan cheese breading and fried, served with a drizzle of chimichuri sauce.
Chef Specials
from time-to-time the chef features various fresh seafood entrees; ask your server for details.
Flame Roasted Pizza Or Lavash Flatbreads
The Gaucho
strips of our signature meat, the picanha, mushrooms and havarti cheese. add jalapenos for an additional cost.
The Rio
a local favorite; our rotisseried pineapple, parmesan chicken, pepperoni and jalapenos.
Sunrise
start with a red-sauce, roasted red pepper or cilantro-basil, then add on to create your own pizza with:
Extra Cheese
provolone, blue cheese, cheddar, havarti, swiss, boursin
Veggies Or Fruit
red or caramelized onions, sun-dried or fresh tomato slices, olives, peppers, mushrooms, avocado, pineapple
Meats
pepperoni, pork loin, sausage, ham, chicken
Seafood
shrimp, smoked salmon
Margherita
sliced tomatoes, fresh basil, olives, mozzarella cheese, evoo
Entrees
Brazilian Coconut Chicken
a lightly grilled or coconut breaded chicken breast in a celestial coconut milk sauce served over rice with a side of seasonal vegetables.
Carnaval Chicken
a lightly fried, crispy, tender chicken breast disguised with our crushed chips, then complemented with a smoked paprika cream sauce with a side of seasonal vegetables.
Pasta Perfection
a generous portion of flat pasta smothered in a creamy lemon-white wine alfredo sauce with portabella mushrooms and capers. add chicken, picanha, shrimp, or smoked salmon for an additional cost.
Rio Skewer
a skewer for two, prepared by our gauchos, of picanha, chicken with parmesan, house sausage, pork loin, onion and bell pepper served with a side of feijoada (black bean stew), rice and farofa (toasted yucca flour)
Cajun Chicken Fettucini
a medley of grilled chicken with cajun heat and sausage together with mushrooms and peppers in a spicy tomato wine sauce served over fettucini.
Land And Sea
an 8oz, grass-fed, filet of beef grilled to your taste and paired with a jumbo shrimp with a dollop of chipotle compound butter, accompanied by your choice of potato, rice, or seasonal vegetable.
Salad Bar With Any Entree
available at an additional cost.
This listing hasn't rated yet.
2401 S Carolyn Ave
Sioux Falls, SD
TODAY
4:00pm - 10:00pm

---

MON
4:00pm - 10:00pm
TUE
4:00pm - 10:00pm
WED
4:00pm - 10:00pm
THU
4:00pm - 10:00pm
FRI
4:00pm - 10:00pm
SAT
4:00pm - 10:00pm