Funk 'n Waffles
unk 'n Waffles is a new twist on culinary entertainment. We specialize in serving unique and exciting food sourced from as many local and organic suppliers as we can, with vegetarian, vegan, and gluten-free options! We're known for our waffles and for serving the best coffee in the city of Syracuse, but have a full and diverse menu, serving breakfast all day long. Evenings you'll find amazing local and national talent performing, 3-4 days/week!
RATE
SUGGEST PRICE
SUGGEST ORGANIC LEVEL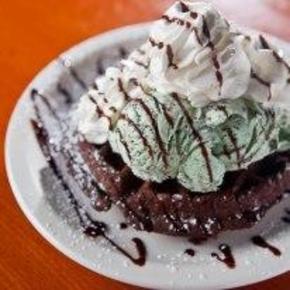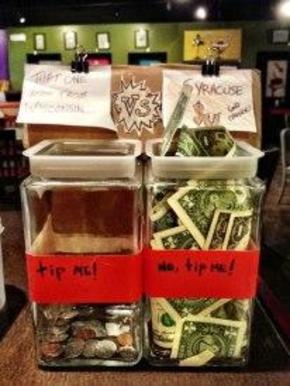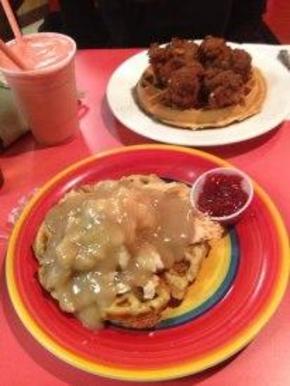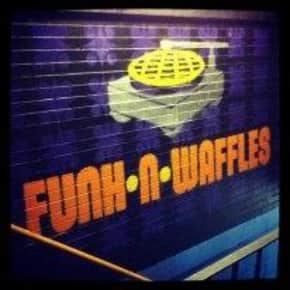 CATEGORY: Restaurants & Cafes
TAGS:
Restaurant Menu - funkn-waffles
Sweet Waffles
Everyday People
buttermilk w/ maple syrup
Star Child
buttermilk w / strawberries & whipped cream
Chocolate City
buttermilk w/ chocolate sauce and chips
Earth, Wind & Fire
whole-wheat w/ bananas, walnuts, honey
Tuesday Heartbreak
whole wheat w/ strawberries, bananas
Crepe Expectations
buttermilk w/ bananas, nutella
Iron, Lion, Zion
buckwheat w/ blueberries, strawberries, bananas
The James Brownie
brownie w/ two scoops of ice cream, whipped cream, chocolate sauce
Aunt Miriam's
vegan w/ strawberries and maple syrup
The Jersey Shore
buttermilk w/ two scoops of ice cream
Kind of Blue
buckwheat w/ blueberries
Whole Lotta Love
whole grain, yogurt, granola, strawberries
Savory Waffles
Chicken & Waffles
buttermilk w/ 1/2 dozen organic wings
Jive Turkey
stuffing waffle w/ smoked turkey, garlic mashed potatoes, cranberry sauce, gravy
Bootsy Brunch
bacon-stuffed buttermilk w/ two eggs and cheddar cheese
Monte Cristo
buttermilk w/ baked ham, swiss, egg
Florentine
buttermilk w/ spinach, feta, smoked salmon
Smoked Gouda And Herb
stuffed waffle w/ side of sour cream
Pulled Pork
topped w/ pulled pork and dino bbq sauce
Falafel Waffle
topped with Israeli salad and tahini
Bacon, Brie, Basil
topped buttermilk w/ marmalade
Mackinac
spinach & mozzarella stuffed waffle w/ smoked turkey and a side of sour cream
All Shook Up
bacon-stuffed buttermilk w/ bananas, honey, and peanut butter
Savory Toppings
1/2 Dozen Fried Chicken Wings
Sandwiches
Egg Sandwich
cheeses included american, cheddar, smoked gouda, swiss, feta, mozzarella.
Meat: Bacon, Sausage, Ham, Or Turkey
$1.29
Meat: Tomato, Spinach
$0.59
Meat: Chipotle Mayo, Pesto, Dinosaur Bbq Sauce
$0.49
Grilled Sandwiches
Mozzarella, Tomato, Basil
Turkey, Mozzarella, Tomato, Pesto
Ice Cream
Cafe Helado
espresso over ice cream
Cold Beverages
Milkshakes
see ice cream flavors
Apple Pie Milkshake
cinnamon w/ apple cider
Cool-Kick Milkshake
mint-chip w/ iced coffee
Frozen Fruit Smoothies
Strawberry-Banana-Pineapple
Funky Monkey
banana, choc, PB
This listing hasn't rated yet.
727 South Crouse Avenue #8
Syracuse, NY
TODAY
9:00am - 9:00pm

---

MON
9:00am - 4:00pm
TUE
9:00am - 9:00pm
WED
9:00am - 12:00am
THU
9:00am - 9:00pm
FRI
9:00am - 9:00pm
SAT
9:00am - 9:00pm
SUN
9:00am - 4:00pm