Strong Hearts Cafe
Fully vegan restaurant with delicious sandwiches, soup, salads, all-day breakfast, desserts, snacks, Friday night pizza and MILKSHAKES!
RATE
SUGGEST PRICE
SUGGEST ORGANIC LEVEL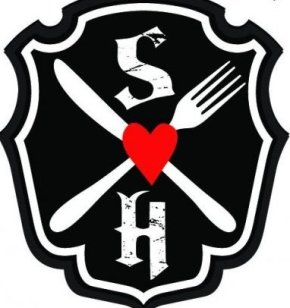 CATEGORY: Restaurants & Cafes, Catering
TAGS:
Restaurant Menu - strong-hearts-cafe
Breakfast
Muffins
baked fresh every morning. a different kind every day!
Basic Tofu Scramble
crumbled tofu, green & red peppers, and onions with our special spice mixture scrambled into a delicious medley of goodness. served with a side of toast
Spicy Tofu Scramble
tofu scramble with jalapenos, onions, banana peppers and crushed red pepper. served with a side of toast
Green Tofu Scramble
tofu scramble with green peppers, pesto, spinach, and broccoli. served with a side of toast
Loaded Tofu Scramble
tofu scramble with your choice of 5 items: onions, garlic, green peppers, red peppers, spinach, black olives, kalamata olives, mushrooms, banana peppers, tomatoes, broccoli. the following items count as 2 items in the scramble: pesto, seitan, vegan cheese and roasted peppers. served with a side of toast
Pancakes
2 macho pancakes served with a side of pure maple syrup. vegan margarine is available upon request
Add Another Pancake For
$1.00
Fresh Fruit On Top (per Fruit Added)
$1.00
The Waffle
one giant waffle dusted with powdered sugar and served with a side of pure maple syrup. margarine is available upon request. make it truly decadent. you can also get your waffle served a la mode with 2 scoops of ice cream on top for $4.00. make it truely decadent!
Fresh Fruit On Top (per Fruit Added)
$1.00
French Toast
2 pieces of the breakfast classic reinvented in a fabulous vegan version. served with pure maple syrup
Add An Additional Piece
$1.00
Fresh Fruit On Top (per Fruit Added)
$1.00
Deluxe PB & J French Toast
a deluxe peanut butter and jelly sandwich on italian bread with slices of banana that's dipped in french toast batter and fried on the griddle
Fresh Fruit On Top (per Fruit Added)
$1.00
"Egg" Trick Muffin
spice-laden tofu, a gimme lean sausage patty and melted vegan cheese between two halves of a toasted english muffin. a strong hearts original!
With Tomato, Jalapenos Or Avocado
$0.75
Gimme Lean Sausages
4 soy sausage links
Add More Links (each)
$0.50
"Eggs" Benetricked
our spice-coated tofu patty atop 2 pieces of smoky seitan and an english muffin, all covered in homemade hollandaise sauce
With Tomato, Jalapenos Or Avocado
$0.75
Smart "Bacon"
Grilled tempeh Bacon
Sides
Macaroni Salad
just like you had when you were a kid, only this time, it's vegan, macaroni, vegan mayo, veggies
Sesame Peanut Noodles
Wide noodles, peanut sauce, peanuts, tofu, scallions, broccoli
Quinoa Lentil Salad
Quinoa, Lentils, lemon juice, cilantro, garlic, carrots
Dill Potato Salad
Cooked red potatoes in a creamy dill sauce with scallions, dill pickles, celery, and fresh dill
Salads
House Salad
leafy greens, grape tomatoes, cucumbers and shredded carrots with the dressing of your choice
"Chicken" Caesar Salad
"chicken" strips, romaine lettuce, croutons and grape tomatoes, served with caesar dressing
Mediterranean Salad
leafy greens, grape tomatoes, artichoke hearts and kalamata olives with crumbled soy feta on top. served with a balsamic vinaigrette
Soba Noodle Salad
buck wheat soba noodles, marinated tofu and mushrooms atop a bed of leafy greens topped with sesame seeds. served with a sesame ginger dressing
Grilled Portobello Salad
marinated and sauteed portobello mushrooms, cubed avocado, grape tomatoes and alfalfa sprouts on a bed of spring mix served with balsamic vinaigrette
Winter Kale Salad
raw kale tossed in agave-mustard dressing, topped with roasted sweet potatoes, roasted beets, toasted walnuts, and sliced granny smith apple
Sandwiches
Cajun Seitan Sandwich
Cajun spiced seitan on rye bread with daiya cheddar cheese, chipotle mayo, lettuce, tomato, and cucumber
Tofurky Club Sandwich
Three pieces of wheat toast filled up with: tofurky, "bacon", lettuce, tomato, avocado, sprouts, mayo
BLT
tempeh bacon on wheat toast with mayo, lettuce, tomato and sprouts
TLT
Marinated tofu, basil/walnut pesto, mayo, daiya mozzarella, lettuce, tomato and sprouts on marble rye
"Chicken" Salad Sandwich
our famous "chicken" salad includes diced carrot and celery, italian seasoning and mayo. comes on wheat toast with lettuce, tomato, sliced red onion
Chickpea Salad Sandwich
chickpea salad spread is made with smashed chickpeas, diced pickles, carrots, and celery, garlic, lemon juice, mayo, and spices. comes on toasted rye with lettuce, tomato, and pickles
Grilled Cheese
buttered wheat bread, daiya mozzarella/cheddar mix
Roasted Veggie Sandwich
roasted red peppers, zucchini and squash with tomato, lettuce and onions. served on toasted pumpernickel bread with our cilantro hummus
Toasted PBJ
toasted wheat bread with pb and j
BBQ Tempeh
bbq marinated tempeh on garlic-butter toasted marble rye with caramelized onions, spinach and tomato
The Reuben
thin-sliced seitan, sauerkraut, 1000 island dressing, daiya mozzarella all up on some buttered and grilled rye bread
Portobello Mushroom Garlic Seitan
portobello-mushroom-garlic flavor seitan on rye bread with daiya mozzarella, roasted garlic mayo, spinach, tomato, and sprouts
Coffee
House Coffee
locally roasted, fair trade, organic. always serving a light roast and a dark roast
In House - Free Refills
$2.25
Flavor Shot
amaretto, butterscotch, caramel, strawberry, cherry, cinnamon, french vanilla, irish creme, hazelnut, coconut, creme de menthe
Milkshakes
Martin Luther King Jr.
mocha
Tiananmen Square Guy
green tea
Team Hoyt
dreamsicle (orange, vanilla)
Elizabeth Cady Stanton
orange julius (double orange)
Leonard Peltier
pineapple, orange
Deluxe Milkshakes
John Brown
oreo cookies & cream
Farm Sanctuary
caramel cookie dough
Bobby Sands
mint chocolate chip
Robert Clemente
peanut butter, oreo
Jill Phipps
peanut butter, banana
Medgar Evers
strawberry, peanut butter
Rachel Corrie
strawberry, banana
Judi Bari
blueberry, banana
Ronnie Lee
cherry, coconut
The Sea Sherpherds
coconut
Albert Einstein
pumpkin, espresso
Harriet Tubman
maple, vanilla, oreo
Fred Hampton
chocolate, oreo
Malcoim X
chocolate, cherry
Emma Goldman
chocolate, coconut
The West Memphis 3
chocolate, mint
Earth Crisis
chocolate, peanut butter
Nat Turner
chocolate, banana
Ken Saro-Wiwa
chocolate, peanut butter, banana
Cesar Chavez
chocolate, espresso
Sacco & Vanzetti
vanilla, espresso
Muhammad Ali
coffee, espresso
Paul Rusesabagina
pina colada
The Kevfrog
pineapple, raspberry
Snacks
Earth Balance Chips
Sour Cream n Onion, or Cheddar
Zimmer Cookies
HUGE and delicious!
This listing hasn't rated yet.
719 East Genesee Street
Syracuse, NY
TODAY
8:00am - 1:00am

---

MON
8:00am - 12:00am
TUE
8:00am - 12:00am
WED
8:00am - 12:00am
THU
8:00am - 12:00am
FRI
8:00am - 1:00am
SAT
9:00am - 1:00am
SUN
9:00am - 12:00am