RATE
SUGGEST PRICE
SUGGEST ORGANIC LEVEL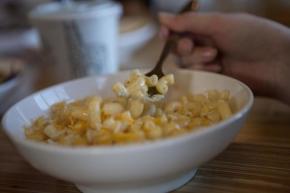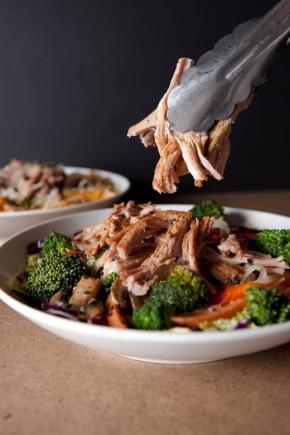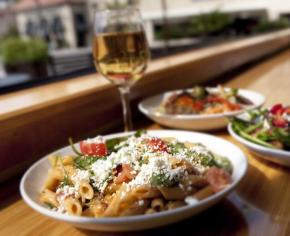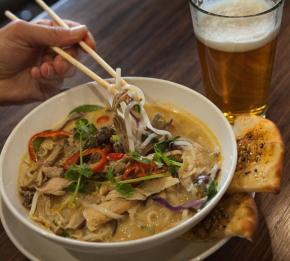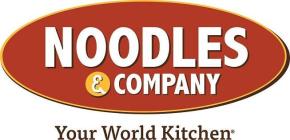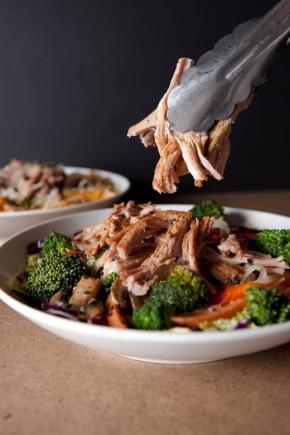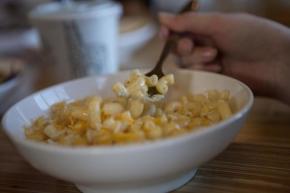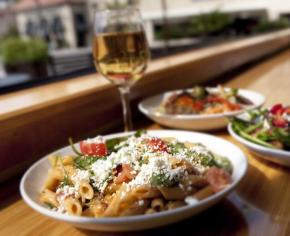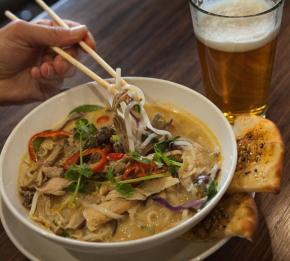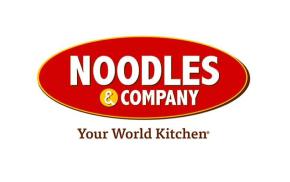 Restaurant Menu - noodles--company-411
Add Meat Or Tofu
Parmesan-Crusted Chicken Breast
Green It Up, Soup It Up Or Veg It Up
Limited Time Only Dishes
Fig & Pig Flatbread
Toasted flatbread topped with caramelized onions, naturally raised slow-braised pork, crumbled feta and parmesan cheese. Then drizzled with balsamic fig-infused oil, more feta cheese and an Arcadian lettuce mix.
Buffalo Mac & Cheese
In our classic, standout dish we've added parmesan chicken, buffalo sauce, blue cheese crumbles and topped it with green onions.
Noodles & Pasta
Penne Rosa
Spicy tomato cream sauce, penne pasta, mushrooms, tomato, spinach, wine and parmesan or feta. Try with parmesan-crusted chicken.
Japanese Pan Noodles
Caramelized udon noodles in a sweet soy sauce, broccoli, carrots, shiitake mushrooms, Asian sprouts, black sesame seeds and cilantro.
Wisconsin Mac & Cheese
A classic blend of cheddar and jack cheeses, cream and elbow macaroni. Try with oven-roasted meatballs.
Pesto Cavatappi
Curly pasta, basil pesto, garlic, mushrooms, tomato, wine, cream, parmesan and Italian parsley. Try with naturally raised pork.
Pad Thai
Rice noodle stir-fry with scrambled egg, carrots, cabbage, sweet chili, citrus, peanuts, Asian sprouts and cilantro. Try with sautéed shrimp.
Spaghetti & Meatballs
Five meatballs on spaghetti, crushed tomato marinara and parmesan.
Alfredo MontAmore
Spaghetti noodles, four-chees blend, mushrooms, spinach, tomato and parmesan chicken. Topped with MontAmore cheese, parsley and cracked pepper.
Bangkok Curry
Sweet coconut curry, broccoli, carrots, red bell pepper, onion, mushrooms, a light portion of rice noodles, served on cabbage with black sesame seeds. Try with naturally raised pork.
Steak Stroganoff
Marinated steak, mushroom sherry cream sauce, fresh herbs, cracked pepper, sautéed mushrooms, egg noodles and parmesan.
Whole Grain Tuscan Fresca
Whole grain linguine with balsamic, olive oil, white wine and roasted garlic, red onion, tomato, spinach and parmesan or feta. Try with grilled chicken breast.
Indonesian Peanut Sauté
Spicy peanut sauce and rice noodle stir-fry, broccoli, carrots, cabbage, Asian sprouts, cilantro, crushed peanuts and lime. Try with grilled chicken breast. extra spicy
Buttered Noodles
Tender wavy egg noodles, butter, Italian seasonings and parmesan. Try with ovenroasted meatballs.
Soups
Thai Curry Soup
Yellow coconut curry broth, spinach, cabbage, mushrooms, tomato, red onion and rice noodles. Try with organic tofu.
Tomato Basil Bisque
Rich and zesty tomato soup with cream, sherry, fresh basil, garlic and Italian parsley. Try with parmesan-crusted chicken.
Chicken Noodle Soup
Our signature soup with chicken breast, celery, carrots, onion and wavy egg noodles.
Salads
Spinach & Fresh Fruit Salad
Seasonal fruit, crumbled bacon, pecans, focaccia croutons, red onion and blue cheese atop spinach with a balsamic fig drizzle.
Grilled Chicken Caesar
Grilled chicken, romaine, focaccia croutons, traditional dressing and parmesan.
Chinese Chicken Chop Salad
Grilled chicken, sesame-soy tossed mixed greens, Asian sprouts, cabbage, red bell pepper, cucumber, carrots, crispy wontons and black sesame seeds.
The Med Salad with Chicken
Grilled chicken, romaine, mixed greens, tomato, cucumber, red onion, olives, cavatappi pasta, spicy yogurt dressing and feta.
Sandwiches
BBQ Pork
Toasted ciabatta roll loaded with slow-braised pork, colorful coleslaw and barbecue drizzle.
The Med
Grilled chicken, mushrooms, spinach, red bell pepper, cucumber, red onion, our zippy Med dressing, cilantro and feta on flatbread. Vegetarian option is available.
Wisconsin Cheesesteak
Marinated steak, our Mac & Cheese sauce, cheddar and jack cheese, red onion, red bell pepper and mushrooms on ciabatta.
Spicy Chicken Caesar
Grilled chicken, romaine, spicy Caesar dressing, wonton strips and parmesan on flatbread.
Complete Your Meal
Potstickers
Chicken Dumplings served with soy dipping sauce. Order 6 or 3.
Margherita Flatbread
Fresh whole leaf basil, Roma tomato, Italian seasonings, feta and parmesan cheese toasted atop flatbread.
Cheesy Garlic Bread
Parmesan and garlic butter melted over toasted ciabatta bread with Italian seasonings and marinara sauce. Order 6 or 3.
Drinks, Desserts & Extras
Square Bowls
Square Bowls
feeds 3-5 people. Family Style Feeding. (no matter who you call family) Noodles & Company offers the world's favorite noodle dishes and salads all in one place. So if you've got a crowd of people, our Square Bowls are the way to go. Fill 'em out...and watch people smile. Mix and match your favorites. Each Square Bowl feeds 3-5 people. Order your group meals online and head straight to the Pick-Up register. We'll be waiting. We have The Big Eight (peanuts, tree nuts, soy, milk, eggs, fish, shellfish and wheat) in our restaurant and there may be cross contact. Our menu descriptions do not include all ingredients. Please see a manager if you have food allergies, dietary restrictions or preferences. Tell us what you think. Visit noodles.com to give feedback and find the latest nutrition information.
This listing hasn't rated yet.
1800 Stewart St
Wausau, WI
TODAY
11:00am - 10:00pm

---

SUN
11:00am - 9:00pm
MON
11:00am - 9:00pm
TUE
11:00am - 9:00pm
WED
11:00am - 9:00pm
THU
11:00am - 10:00pm
FRI
11:00am - 10:00pm
SAT
11:00am - 10:00pm