Fish Bites Seafood Restaurant
RATE
SUGGEST PRICE
SUGGEST ORGANIC LEVEL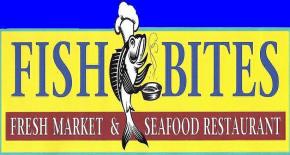 CATEGORY: Restaurants & Cafes
TAGS:
Restaurant Menu - fishbites-seafood-restaurant-and-fresh-market
Soups
Lobster Bisque**
A delectable blend of minced sweet Lobster meat combined with spices and vegetables simmered in a savory cream base.
Fish Bites Clam Chowder**
Traditional cream based Clam Chowder that gets a boost of flavor from fresh local caught, hand shucked Clams.
Soup Of The Day
Fresh soups made by the Chef. Ask your server.
Oyster Rockefeller Stew**
This unique dish is made to order using fresh Oysters, baby spinach, bacon, onions and a blend of spices simmered in a creamy parmesan cheese sauce.
Salads
Garden
Mixed greens, cucumbers, tomatoes, onions, carrots and croutons.
Caesar
Romaine tossed with herb croutons and parmesan cheese.
Iceberg Salad
Iceberg wedge topped with tomato, scallions and blue cheese crumbles served with a homemade hot bacon dressing.
Caribbean Salad
Fresh greens, candied pecans, toasted coconut and orange slices finished with a maple vinaigrette.
Tuna Salad Plate
Tuna salad made with our market fresh Tuna served on a bed of mixed greens, cucumbers, carrots, & tomato. Served with fried pita points and your choice of dressing.
Sandwiches & Baskets
Fish-N-Chips
Hand dipped, beer battered, North Atlantic white fish, fried golden brown.
Fish Bites Basket
Choice of one: Shrimp, Clam Strips, Calamari or Flounder. Prepared fried or broiled.
Chicken Tenders Basket
Chicken tenders breaded then fried. Served with our homemade buttermilk ranch.
Coconut Shrimp Basket
Shrimp dipped in coconut batter and fried golden brown. Drizzled with coconut ginger sauce.
Lobster & Shrimp Roll**
Fresh Lobster and Shrimp folded in a savory old bay mayo. Topped with apple wood bacon and served in a toasted bun.
Shrimp and Grits**
Lightly fried pepper jack grits cake topped with sautéed Shrimp tossed in a creamy cajun sauce with bacon, garlic and parmesan.
Crabby Samie Sandwich**
Fried or broiled Shrimp and Crab cake topped with lettuce, tomato and onion. Served with our homemade thai mayo.
Soft Shell Crab Sandwich
Lightly breaded and fried Soft Shell Crab topped with lettuce, tomato and onion.
Tuna Salad Sandwich
Tuna salad on marble rye bread with melted swiss cheese, tomato and lettuce.
Steak Hoagie
Char-grilled marinated Steak tips topped with caramelized onions. Served with lettuce, tomato, provolone cheese and homemade creamy horseradish.
Fresh Catch Sandwich*
Choose from our daily selection of fresh fish served on cuban bread topped with lettuce, tomato and onion. Prepared your way: char-grilled, pan-seared, fried, blackened or broiled. make it a Po Boy for additional $1.25.
Parmesan Sandwich
Chicken or Shrimp lightly breaded and fried topped with homemade marinara and blend of cheese then baked.
Po Boy
Choose Grouper Cheeks, Oysters, Clam Strips or Shrimp fried. Served in a hoagie roll with homemade thai mayo.
Wraps
Chicken or Shrimp blackened, grilled or fried. Wrapped in a tortilla shell with shredded lettuce, onion and tomato. Tossed in your choice of caesar, buffalo or thai sauce.
Tacos*
Choose Shrimp, Cod, Tilapia, Chicken or Fresh Catch. Prepared fried, blackened or grilled. Served in two flour tortilla shells topped with lettuce and cheddar jack cheese. Served with sour cream and peach ginger salsa on request.
Chicken, Shrimp, Tilapia Or Cod
$9.75
Appetizers
Sesame Tuna*
Sesame seared fresh Yellow Fin Tuna sliced thin finished with wasabi, seaweed salad and soy reduction.
Oyster Bombs**
Freshly shucked Oysters broiled on the half-shell with apple wood bacon, pepper jack cheese and texas pete.
Shrimp Bombs**
Large Shrimp stuffed with pepper jack cheese, wrapped in bacon then beer batter fried. Served with our homemade thai sauce.
Calamari
Fresh Squid rings lightly breaded and flash-fried. Served with homemade thai or marinara.
Crab & Shrimp Dip
Crab and Shrimp mixed with three cheese blend, select herbs and spices then baked. Served with fried pita points.
Clams Casino
Clams topped with compound cheese that consist of bacon, shallots, parsley, cream cheese and bell pepper. Finished with breadcrumb then baked.
Zucchini Fries**
Fresh cut Zucchini, lightly breaded and fried. Served with buttermilk ranch dressing on the side.
Shrimp Cocktail
8 large Shrimp steamed to perfection. Served with a lemon and cocktail sauce.
Cheese Sticks
Fresh mozzarella breaded and fried golden brown. Served with our homemade marinara sauce.
Grouper Cheeks**
Grouper cheeks fried golden brown. Served with tartar sauce.
Mussels or Clams
Fresh Clams or Black Mussels sautéed in our homemade marinara or garlic wine sauce. Served with fried pita points.
Oysters - Steamed or Raw*
Pastas
Pasta YOUR Way
Linguini or penne pasta served with your choice of homemade marinara, garlic alfredo, creamy lobster, pesto or white wine and garlic sauce.
Pasta
With Shrimp, Calamari, Mussels, Whole Clams, Clam Strips, Chicken or Steak.
Fresh Clam Pasta
Fresh local Clams sautéed in a white clam sauce with shallots, garlic, lemon and wine. Served with your choice of pasta.
Shrimp & Scallop Scampi
Sautéed Shrimp and Sea Scallops tossed in a garlic lemon butter, topped with scallions and tomato. Served with choice of pasta.
Fish Bites Pasta**
Sautéed Clams, Mussels, Shrimp, Andouille Sausage, roasted red peppers and spinach in a cajun alfredo sauce. Served with your choice of pasta.
Shrimp and Grits**
Lightly fried pepper jack grits cake topped with sautéed Shrimp tossed in a creamy cajun sauce with bacon, garlic and parmesan.
Entrées
Ponzu Tuna Fillet*
Fresh Yellowfin Tuna wrapped with bacon perfectly seared with our special spices and secret sauce served atop a bed of raw sweet onions. Its our Filet Mignon of the Sea.
Filet Mignon*
Hand cut Angus Filet bacon wrapped and pan-seared to your liking. Topped with a red wine rosemary broth.
Land Lovers Special*
Chef's choice.
Fresh Catches*
Choose from our daily selection of Fresh Fish, Lobster Tail or Sea Scallops. Prepared fried, broiled, blackened or pan-seared. Served with your choice of toppings: pesto, thai, spicy orange glaze, maple honey, or coconut ginger sauce.
Stuffed Flounder**
Flounder stuffed with Shrimp, Scallops, Crabmeat, herbs and spices broiled. Topped with our lemon beurre blanc sauce.
Crab Cakes**
Two crab cakes loaded with Crab and Shrimp, fried or broiled. Finished with a lemon beurre blanc sauce.
Seafood Platter
Choose 1, 2, or 3 items: Shrimp, Flounder, Calamari, Clam Strips or Oysters. Your choice of fried, cajun or old bay broiled.
Additional Charge For Oysters
$3.00
Pesto Tilapia
Cajun Tilapia topped with Snow Crab, spinach pesto, parmesan cheese, bacon crumbles and diced tomatoes. Finished with balsamic reduction.
Maple Salmon*
Fresh, bacon wrapped Faroe Island Salmon baked. Caramelized with a homemade maple honey glaze.
Fishermans Stew**
Clams, Shrimp, Black Mussels, Fresh Fish, Calamari, Sea Scallops and roasted potatoes in a rich, mildy spiced plum tomato broth. Served with bread sticks no choice of sides.
Margarita Chicken
Chipotle seasoned, char-grilled Chicken breast, homemade salsa and sliced avocado. Finished with a margarita glaze.
Fish Bites Steamer Platter*
Oysters, Clams, Snow Crab Legs, Mussels and Shrimp portioned for one, two, three or four persons.
Live Maine Lobster
Steamed to perfection.
Snow Crab Legs
Two Snow Crab Leg clusters steamed to perfection. Served with drawn butter.
Sides
French Fries, Homemade Chips, Coleslaw, Wild Rice or Potato Of The Day
Veggie Of The Day or Zucchini Fries (additional $1)
Garden Salad, Caesar or Cup Of Soup (additional $1.5)
This listing hasn't rated yet.
6132 Carolina Beach Road #11
Wilmington, NC
TODAY
11:00am - 3:00pm

---

SUN
11:00am - 3:00pm
TUE
11:00am - 9:00pm
WED
11:00am - 9:00pm
THU
11:00am - 9:00pm
FRI
11:00am - 10:00pm
SAT
11:00am - 10:00pm