Local Root
Located near Navy Pier, Local Root is a tranquil oasis of locally-sourced, organic freshness. Tucked in the heart of Chicago's Streeterville neighborhood offering casual-by-day, dinner and wine bar by night with a lunch-time lineup of fresh salads, soup, flat-breads, burgers & sandwiches featuring seasonal farm-to-table ingredients alongside house-baked breads, muffins, cookies and our own custom recipe sodas.

By night, find seasonal favorites like free-range chicken and bbq pork ribs, grass-fed steak frites and fresh seafood special, teamed with locally sourced organic cheeses and charcuterie boards. A full bar includes local craft draft beers, regional wines and familiar liquor from unfamiliar local brands.

Brunch served every day from 7AM offers innovative menu additions like crepes du jour prepared from prairie organic flour with seasonal fruit, bbq brioche and prosciutto baguette and bar service featuring the ever-popular bloody mary or your choice. An expanded brunch menu is available on weekends.
RATE
SUGGEST PRICE
SUGGEST ORGANIC LEVEL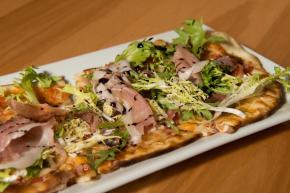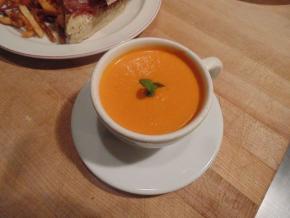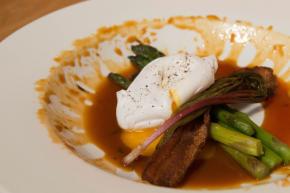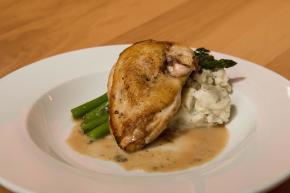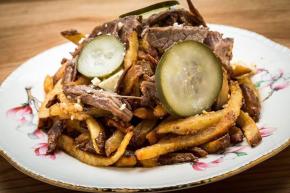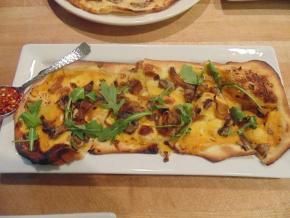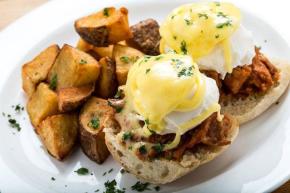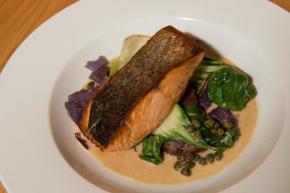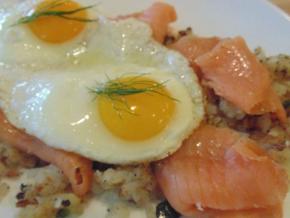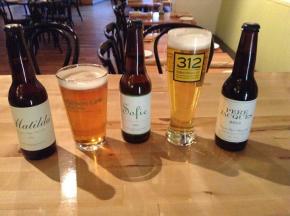 CATEGORY: Restaurants & Cafes
TAGS: Vegan Friendly, Vegetarian Friendly, Locally Grown, American
Restaurant Menu - local-root
Shared
Lamb Sticks
Lamb Bacon, Maple, Molasses Mustard, Black Pepper & Cardamom
Cheese Board
Served with Marcona Almonds, Jam and Local Honey, Boone County Bloomy, Organic Valley Bleu, Eagle Cave Aged Cheddar
Cheese Board with Charcuterie
Smoking Goose Fireball Salami, Lamb Bacon, Stagberry Elk Salami
Truffle Flatbread and Mushroom Ragout
Wild Mushrooms, Caramelized Onions, Parmesan
Prosciutto Flatbread Marinara
Goat Cheese, Frisée, Balsamic Reduction, Daily Greens
Soup & Salads
Soup du Jour
Hand-crafted with Seasonal Ingredients
Local Salad Greens
Pickled Red Onions, Croutons, Lemon Vinaigrette, Autumn Vegetables
Classic Caesar Salad
Romaine lettuce, Parmesan, Croutons
Top It With Champagne Chicken
$15.00
Top It With Crab Cake
$18.00
Top It With Grass-fed Steak
$23.00
Small Plates
Stuffed Portobello
Spinach, Goat Cheese, House-made Marinara
Crab Cakes
Adobo Chili Aioli, Lemon & Caper Mignonette with Greens
Iron Skillet Mac & Cheese
Cheddar, Cream, Parmesan, Bread Crumbs
Pulled Pork Poutine
Frites, House Pickles, Stone Ground Mustard, Local Cheddar
Large Plates
Campbell River Salmon
Served Medium, Smashed Potatoes, Picatta Sauce, Steamed Vegetable
Amish Chicken
Mashed Potatoes with Dill, Pan Sauce, Sautéed Vegetable
Golden Eggplant Tower
Goat Cheese, Balsamic Gastrique, House-made Marinara, Grilled Vegetable
Steak Frites
Grass-Fed Steak, House Made Frites, Chimichuri
Sandwiches
Grass-Fed Burger, Half Pound
Lettuce, Local Root Pickles, Red Onion, Cheddar
Vegan Ciabatta
Marinated Mushrooms, Sundried Tomatoes, Vegan Mozzarella, Autumn Vegetables
Prosciutto Baguette
Goat Cheese, Pickled Red Onions, Arugula
Turkey Baguette
Swiss Cheese, Cranberry Shallot Jam
Champagne Chicken
Chipotle Tomato Jam, Gruyere
Pulled Pork Brioche
BBQ Sauce, Beer Batterered Jalapenos, Cheddar Cheese
This listing hasn't rated yet.
601 North Mc Clurg Court
Chicago, IL
TODAY
7:00am - 10:00pm

---

MON
7:00am - 10:00pm
TUE
7:00am - 10:00pm
WED
7:00am - 10:00pm
THU
7:00am - 10:00pm
FRI
7:00am - 10:00pm
SAT
7:00am - 10:00pm
SUN
7:00am - 3:00pm