THE EGG SHELL OF CHERRY CREEK
RATE
SUGGEST PRICE
SUGGEST ORGANIC LEVEL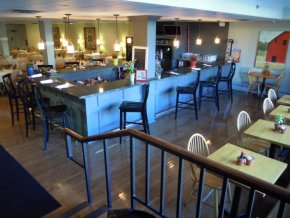 CATEGORY: Restaurants & Cafes, Bed & Breakfasts
TAGS: Vegan Friendly, Vegetarian Friendly, Locally Grown
Restaurant Menu - the-egg-shell-of-cherry-creek
Breakfast - House Specialties
Biscuits & Gravy
served with two eggs any style
Country Fried Chicken
hand battered chicken breast, smothered in gravy. served with two eggs any style and toast
Breakfast Burrito
sausage, scrambled eggs, green chilies, onion and potatoes. smothered with pork or vegetarian green chili. topped with crisp iceberg lettuce, tomatoes and jack and cheddar cheese
Huevos Rancheros
toasted tortilla topped with two eggs any style, beans, vegetarian green chili, crisp iceberg lettuce, fresh tomatoes and jack and cheddar cheese
Blackened Trout And Eggs
served with two eggs any style and toast
Sunrise Sandwich
scrambled eggs with your choice of bacon, sausage or ham, tomatoes and cheese on a toasted croissant or bagel
Breakfast Quesadilla
scrambled eggs, cheddar cheese, bacon, green chilies and onions in a white or wheat flour tortilla. served with sour cream and salsa
Potato Cakes
two crispy cakes made with potatoes, bacon and cheddar cheese, topped with sour cream and chives. served with two eggs any style and toast
Corned Beef Hash
a blend of diced corned beef, bermuda onions, roasted red peppers and our signature herbed potatoes. served with two eggs any style and toast
Breakfast - Skillet Favorite
Kitchen Sink
pork sausage, applewood bacon, ham, spinach, spicy roasted tomatoes and mushrooms. topped with jack and sharp cheddar cheese
Shooting Star
potatoes, spinach, mushrooms, tomatoes and herbed cream cheese
Wild Rice Vegetable Star
wild rice, sauteed mushrooms, green peppers, onions, tomatoes, zucchini and green chilies. topped with swiss cheese
Breakfast - Benedicts
Classic Benedict
canadian bacon
Add Our Herbed Cream Cheese And Jalapenos
$2.00
California Benedict
spinach, avocado and tomato
Rockefeller Benedict
spinach, cream cheese and bacon
Breakfast - Omelettes
Italian
capicola, genoa salami, soppressata, mozzarella cheese, roasted red peppers and marinated artichokes
Denver
diced ham, onions, peppers and cheese
Athenian
feta cheese, kalamata olives, spinach, gyros meat and pepperoncini. topped with tzatziki sauce
Peasant Of Spain
mushrooms, roasted red peppers, artichokes, spanish olives and cherry tomatoes. topped with muenster cheese
Breakfast - Omelettes - Build Your Own Omelette Or Skillet
Meats
bacon, pork sausage, ham, italian sausage, canadian bacon, turkey sausage mixed italian meats, chicken, corned beef, seasoned ground beef
Vegetables
green chilies, onions, mushrooms, spinach, tomatoes, zucchini, green peppers, jalapenos, avocados, olives, artichokes
Dairy
cheddar, swiss, muenster, mozzarella, brie, blue cheese, herbed cream cheese
Sauces
pork or vegetarian green chili, hollandaise, salsa
Breakfast - Grains
Breakfast Salad
a combination of granola, seasonal fruit, walnuts and sweetened yogurt
Breakfast Sweets
Swedish Pancakes
three crepe-like pancakes topped with powered sugar and served with house mode lingonberry sauce
Add Blueberries, Strawberries, Wheat Germ Or Nuts
$1.00
Granola French Toast
croissant dipped in batter, rolled in granola, grilled and sprinkled with powered sugar. served with a side of fresh strawberries
Lunch - Starters
Pot Roast Sliders
3 sliders served with french fries
Tater Tots
with dipping sauces
Lunch - Soup
Grilled Cheese And Tomato Soup Combo
Lunch - Greens
Caesar Salad
a blend of hearts of greens tossed in our signature caesar dressing, garlic-herbed croutons and topped with a dressing, garlic-herbed croutons and topped with a parmigiano-reggiano crisp
Greek Salad
romaine hearts, kalamata olives, pepperoncini, feta cheese, tomatoes, cucumber and bermuda onions. served with balsamic vinaigrette
Classic Wedge
iceberg lettuce topped with bacon bits, tomatoes and blue cheese crumbles. served with our signature blue cheese dressing
Spinach Salad
greens, goat cheese and warm bacon dressing. topped with a poached egg
Mixed Green Salad
seasonal greens
Lunch - Sandwiches
Turkey And Brie
roasted turkey breast, mixed greens and brie cheese with our cranberry relish.
Gyros Of Sparta
blended lamb and beef. topped with tomato, onion, greens and tzatziki sauce in a toasted pita
Reuben
corned beef, 1000 island, sauerkraut and swiss cheese on grilled rye
Roma
blend of cured italian meats and cheeses. topped with spinach and aioli
Napolitana
roasted red peppers, artichokes and spinach. topped with basil pesto and fresh mozzarella
Marco Polo
chicken breast, granny smith apples, almonds, dried cranberries and blackening spices
Blts
bacon, lettuce, tomato and cured salmon topped with lemon aioli
Ultimate Chicken Sandwich
grilled chicken breast, avocado, tomato, red onion, muenster and smoked gouda cheese and chipotle aioli
Turkey Pastrami Melt
turkey pastrami topped with muenster and swiss cheeses and our special sauce
Turkey, Bacon And Cheese Melt
grilled turkey with ranch sauce and melted swiss cheese. topped with tomato and two strips of bacon
Lunch - Outer Shell
American Burger
certified angus beef. topped with american cheese, lettuce, tomato, finely chopped onion and our secret sauce
Add Agave-candied Bacon
$1.00
Pappardelle
served with blackened chicken and your choice of sweet tomato cream sauce or pesto
12oz Certified Angus Beef Steak
scallion potatoes, demi-glace, vegetable of the day
Fish & Chips
lightly battered fresh cod
Tacos
three soft corn tortillas with your choice of fish or chicken
This listing hasn't rated yet.
235 Fillmore Street
Denver, CO
TODAY
6:30am - 2:00pm

---

SUN
7:30am - 3:00pm
MON
6:30am - 2:00pm
TUE
6:30am - 2:00pm
WED
6:30am - 2:00pm
THU
6:30am - 2:00pm
FRI
6:30am - 2:00pm
SAT
7:00am - 3:00pm