Pat Greer's Kitchen
Houston's finest raw vegan food, ready for takeaway!
RATE
SUGGEST PRICE
SUGGEST ORGANIC LEVEL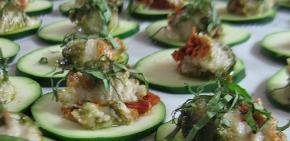 CATEGORY: Co-Ops, Online Shopping, Catering, Restaurants & Cafes, Farmers Markets
TAGS: Vegan Friendly, American
Restaurant Menu - patricia-greers-kitchen
Daily Entrees
Garden Burgers
Our garden burgers are made with sprouted lentils, carrots, zucchini, celery, onion, sunflower seeds, texas pecans, herbs, spice, and lots of loving. Two patties are served on now traditional collard leaves with our dijon daze sauce. This is one of my (yayapat) favorites!!!
Sloppy Moes
Our sloppy moe is back with our savory neat mixed with tangy moe sauce.
Salmoon Salad
Dulse and dill combined with sunflower and pecan make a delectable salad.
Daily Soups and Salads
Brussel, Cranberries, Pecan & Dijon Salad
Yummy brussel sprouts tossed with purple cabbage, pecan nibbles, and dried cranberries, topped with our famous dijon dressing.
Kale to the Chief Salad
This salad is so delicious you'll be marching back for more! Local kale, sprouted lentils, onion, tomatoes, and hemp seeds combined with love and our herbs dressing make a powerful lunch, no pomp and circumstance required.
Cowgirl Coleslaw
Yeehaw! Yaya's Rawrah has created a tangy coleslaw with cabbage, carrots, onions, raisins, and a hint of spice.
Main
Pies and Cakes
Made with love and goodness.
Texas Pecan Pie
Made with love and organic: texas pecans, cashews, agave, dates, and spices.
Chocolot Peanut Butter Pie
Coconut Dream Pie
Our coconut dream pie is made with love and organic: cashews, unsweetened coconut, agave nectar, texas pecans, and dates, cinnamon.
This listing hasn't rated yet.
412 West Clay Street
Houston, TX
TODAY
10:00am - 3:00pm

---

MON
10:00am - 3:00pm
TUE
10:00am - 3:00pm
WED
10:00am - 7:00pm
THU
10:00am - 7:00pm
FRI
10:00am - 3:00pm